… If You Make SEO Mistakes.
Let's get this straight.
 SeoGoodGuys will not sell you any products or try to recruit anyone into an MLM business.
 I'm not here to debate the MLM system, or the ethical issues behind it.
 I am not saying that MLM cannot work, but I am not here to endorse it either.
 I will not say that ALL MLM sites will fail. I am here to explain the technical side of why most MLM sites do not succeed.
About MLM Websites
MLM stands for Multi-Level Marketing a.k.a Network Marketing. It is a controversial business model that while endorsed by several well-known business celebrities (like Donald Trump and Robert Kiyosaki), is also at the same time reviled by pretty much everyone else. To learn more about it, click here.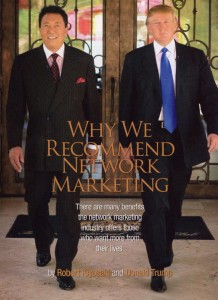 Since the early 2000s and the widespread embrace of the Internet, traditional MLM businesses have turned to the Internet to market their products and to recruit new agents. It evolved into some new terms, like Internet Network Marketing, Online MLM or Affiliate Network Marketing.
How these online MLM businesses function:
1. The main company (which carries the brand) has a main website where customers can directly purchase products and people who want to earn money can join as a member.
 2. The member becomes a Distributor, which gives them the opportunity to earn commissions when they recommend others to buy the product. They are also able to recruit similar Distributors as their "downlines".
 3. These Distributors will open an account on the main website, so that sales registered on that account will be attributed to that Distributor. The distributor will then used any method to get customers to buy products through this account. Any sales done by their downlines will also be registered into that particular Distributor's account. Sales will be tracked, and commission paid accordingly. (This is the old school way)
 4. In recent years, online MLMs have begun to give distributors their own Business Development Kit, which is basically a simple blog builder software, and some training and marketing materials. The Distributor is able to set up a simple blog/website to market the products. Sales and recruitment will be tracked through that personal blog, and the commission will be paid accordingly. (The new school way)
5. MLM has always been a numbers game, and network marketing emerged online to tap into the huge internet market. MLM sites need a lot of traffic for sales, leads, and recruitment – and without a doubt, search traffic accounts for a large percentage of site visits. Smart network marketers will optimize their site to capture search traffic. This is where Search Engine Optimization comes in.
5 Reasons Why Most MLM Sites Do Not Work
 #1 Traditional MLM methods do not work for internet marketing
Most MLM distributors are great at what they do – traditional MLM. However, the same success does not easily translate into success for internet marketing. These people are just not trained in online marketing, and the knowledge needed to excel in this field is quite specialized.
There are far more technical knowledge that you need to know in order to make your website successful. You cannot rely on your interpersonal charm or your verbal charisma.
Suddenly you need to learn about Search Engine Optimization, Social Media Marketing, Conversion Rate Optimization, Landing Page Optimizing etc.. Sure, there are SEO blogs that can teach you, but it can get pretty daunting for the internet unsavvy.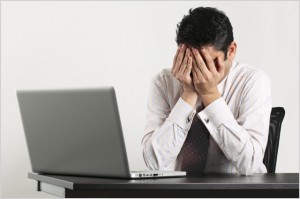 The dynamics of the business also changes with the shift online.
Your upline and even your downlines can become your immediate competitors. Everyone is fighting for real estate on the SERPs. A lot of the information about how to truly succeed in online MLM is vague and generalized, because no one wants to share their secrets – even to downlines.
#2 Duplication works in Traditional MLM, not for the Internet.
In traditional MLM, they tend to preach that if you follow "the system", you can find success by walking in the path of someone who found success using a proven formula. This makes a lot of sense, and is the basis of why franchises are so successful. However, when it comes to internet marketing, nothing could be worse than duplication.
Most MLM companies will supply marketing materials and product information to their members for their use. What happens is that when you have hundreds or even thousands of websites using the same description for that business and its products, you have a serious case of duplicate content.
Google has a tough stance against duplicate content. Sites with thin or duplicate content have been penalized by Google. As a result, they have been pushed way down the ranks, or even gotten unindexed.
#3 Poor Link Profile
MLM sites usually suffer from bad link profiles. They tend to have many inbound links from similar sites with similar content, because these sites are part of a network. It is easy to get links from your downline's websites, but these links are low in quality.
Because many sites in that network of distributors will inevitably link to each other, this creates a low quality, spammy link neighbourhood. Having plentiful of such links from spammy MLM link neighbourhoods will cause you to be penalized due to Google's Penguin updates to weed out spam. You might even be banned. OUCH.
Furthermore, think about it. Which site will tend to get the most inbound links? Which site will get the most linking domains, with Branded Anchor Text? The MAIN company site! That site will be pushed to the top of the ranks for your important keywords because almost everyone else is linking back to it. Your clients will inevitably buy products from the main website that not only looks the most legit, but also ranks the highest.
#4 Bad User Experience
Many MLM affiliate sites suffer from this. There are many factors that contribute to a poor user experience, but it is not entirely the fault of the distributor. They are just not well educated about what it takes to do well online. Few of them know about proper on page optimization.
Thin content is one major issue. These sites mainly get their information from the Business Building Kit that is supplied to them by the company. The quality and diversity of the information is of too little value to consumers.
Bad design and poor site structure are also problems some of these sites face. Some sites look like they want to sell a product, but end up trying to capture leads. Others want to capture leads, but end up turning users off with "too much selling".
Google's Panda algorithm updates aims to weed out sites that provide poor user experience. Most MLM sites do not survive the cut.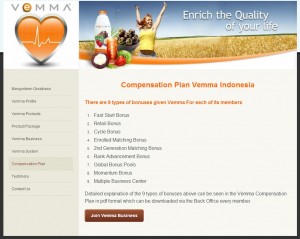 #5 Wrong Branding
Most MLM sites approach branding wrongly. They obediently set up their site and start promoting their company and its great products. The one that stands to gain the most is the company, because it has the highest number of brand mentions, inbound links, and descriptive anchor text.
Doing MLM in real life, you are selling yourself as a salesman or a testimonial. Successful internet marketers learn to do that online. The trust factor on the internet is already way low, and it becomes even harder for your consumers to part with their money if they can't trust you, or your website.
Visitors can very easily locate the main company and spend their money there (it is far more profitable for the company if consumers do that too actually). Window shopping online also makes it easier for your visitors to open many Tabs in the browser and find the best deal. There is only very little you can do to control whether they buy a product from your website, or a competitors. Recruitment goes the same way too.
Conclusion
Sorry MLM people, please don't hate me!
Many of the reasons listed above are also applicable for Affiliate marketing websites. They face many of the same problems too. In fact, there are other non-SEO related reasons that add to the downfall of most MLM and affiliate websites.
I will not be touching on the topic of how to make MLM sites profitable. That isn't the purpose of this looong article. Ironically, you can Google "Why do MLM sites fail", and you will find a tonne of sites that teach you how to succeed.
I have clients who request my SEO service for their MLM website. I tend to turn down such requests because the competition is too high, and the time needed to create quality work will put off the clients. People in the MLM industry tend to want quick results but are unwilling to put in the time and effort needed to build their brand.
If you are planning to build your MLM business online, I hope you can avoid these pitfalls that many have fallen into. Remember, SEO is not a miracle solution, and will not be able to replace great content and awesome products.
You survived! Do you have anything to share from experience? How else do you think MLM and affiliate marketers can improve? Sound off in the comments below.