More uses = more value-addedness!
As you already know, I have a service called the Website SEO Review, where I conduct an audit into the SEO of your website, and provide you with various reports about the health of the site. Using these reports, I come up with an SEO strategy, and detailed action plans for you to follow.
The best thing about these reports is that you get to keep them, make use of them, and create new strategies YOURSELF. The Overall Report is limited to the TOP 3 strategies, but with this guide, you can think of another 6 more incredibly smart ways to use the individual reports.
1. Capture more varied keyword traffic with the Ranking Report.
I've noticed a number of websites in Singapore that use their homepage to target multiple keywords. Their homepage Titles tags usually have a combination of multiple keyword variations of their main keywords.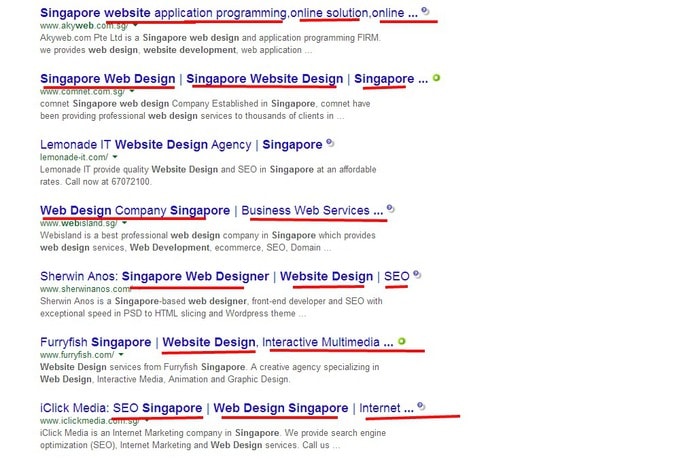 These websites are trying to cramp as many keywords as they can onto their homepage titles, because they want their homepage to show up for those searches. In a way, they are 'diluting' the keyword strength of the page. For best SEO practices, you should aim to target one main keyword per page – and that includes your homepage. (see also Keyword Cannibalization)
When I create the Ranking Report for you, it will generate a long list of related keywords based on the initial keywords that you give me. That way, you can see what are the other keyword combinations that you are or are NOT ranking for.
Instead of making your homepage target all the possible keywords, you can create new pages to target less competitive keyword variations. Either this, or do a keyword re-targeting on some existing pages, so they target different keyword combinations.
So if I were to use an (imaginary) Ranking Report to help a Web Design company (XYZ), an example would be:
Homepage : Web Design Agency in Singapore | XYZ
Services page: XYZ Website Designing Services
About Us page: Our Singapore Web Designers | XYZ
Of course, this is just an example. You will have to refer to your own report to see which keywords are best suited for you. You can attract more traffic to different pages of your site this way.
2. Take advantage of competitor weaknesses with the Competition Ranking Report
The best way to steal traffic away from your competitors is to rank higher than them for their targeted keywords. That's usually easier said than done. However, your competitors can't dominate ALL keywords. There are bound to be some weaknesses you can exploit.
Here's how.
The competitor Ranking Report pits the keyword ranking between you and your top 3 strongest competitors. What you want to find are the keywords where your competitors are placed around the 10-30 mark. That means they have pages that are targeting those keywords, but are not strong enough to break into the first page of results.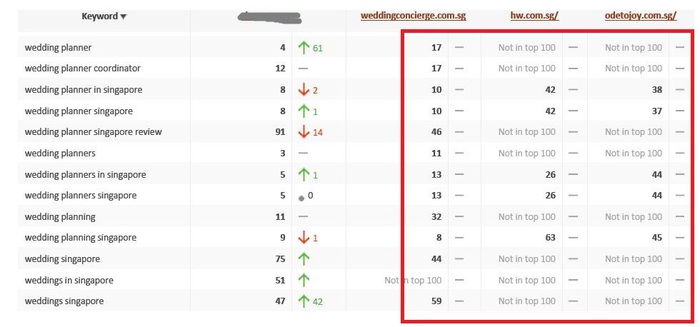 Head to Google, search for those keyword terms, and try to locate your competitors around the results page. When you find your competitor's site, click to view. Look at the content of the page, and see if you can do better.
Now, go create a new page that targets those keywords, and make sure the page is filled with great content. Build some internal links and external backlinks to that page, and hopefully you can rank higher than your competitor.
Personally, I like to target these 'easier' keyword terms. You are more likely to outrank your competitor's 'weak' pages, compared to pages where your competitor ranks on the first page.
3. Brainstorm for new content ideas with Keyword Research Report
When I need to generate relevant content for a website, one of my greatest fears is to hit a writer's block. Either that, or hitting a brick wall. That hurts.
With the Keyword Research Report, I can provide you with a large list of keywords that are closely related to the search terms used in your niche. The difference between the Keyword Research Report and the Ranking Report, is
 the Ranking Report gives you keyword rankings of your main business terms,
whereas Keyword Research Report gives you the other keywords that people also search for that is related to your niche on a whole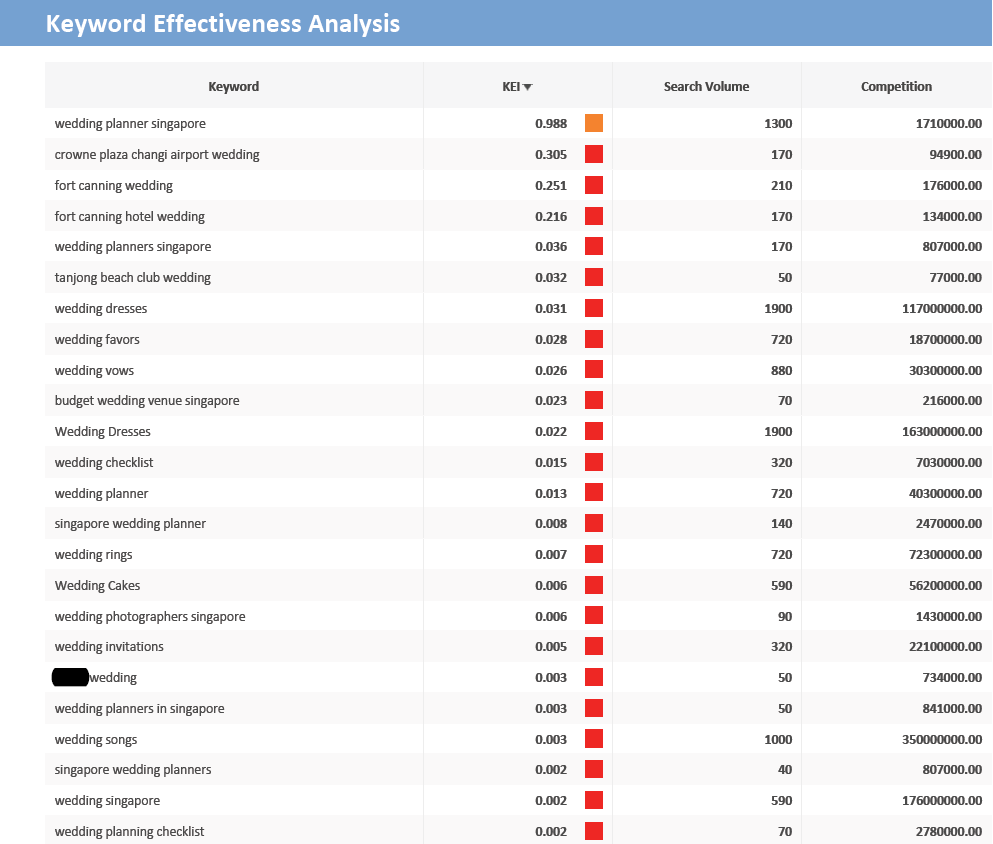 In the example keyword research report above, you can see the other terms that people also searched for when they are looking for wedding planners. With these keywords, you can brainstorm a lot of additional content that would be of value to wedding couples.
Bonus: plant those seed keywords into Soovle or Ubersuggest, and get EVEN more keyword ideas.
4. Use broken external links for link building with Website Structure Audit Report
This one is confusing, but the pay off can be huge.
The Website Structure Audit Report points out broken internal and external links. Broken links may arise due to a change of URL, or maybe an external page that has moved.
Broken links results in a lot of 404 errors for your visitors – a sign of bad user experience. Worse, you lose the link benefits when other sites link to 404 pages on your site. When you link to a broken external page, you do not offer a good experience for them.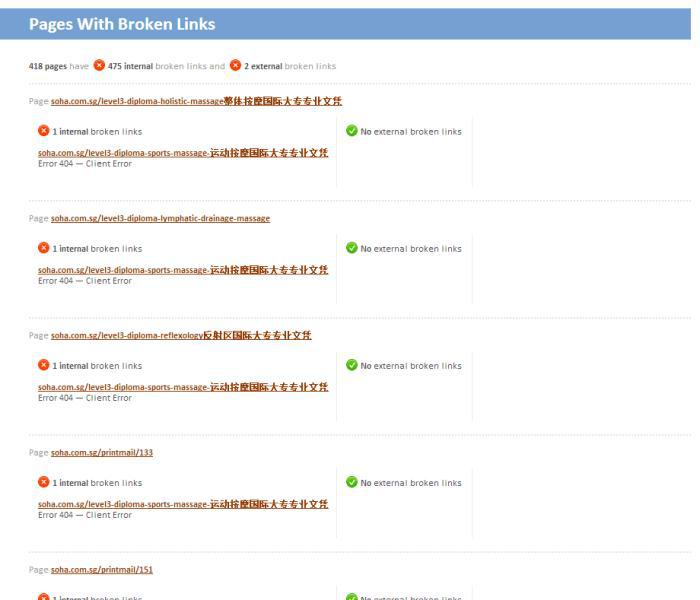 The Website Structure Audit tells you which pages on your site return a 404 error, and which external links are broken.
Solving the broken links and 404 errors on your own site is important. But one smart way to use the Report is to use those broken external links to build links to yourself. This is known as broken link building, and this is how you do it.
(if you didn't read that extensive guide, here is the basic outline)
find out who else links to that external page
create an even better page than the one that you originally linked to
convince the others who linked to that broken page to link to your new (and improved) page
get links!
That's definitely one link building strategy that has been successful for plenty of marketers.
5. Spy on your link building team by using the Backlink Analysis Report
Do you have an in-house team that is in charge of building links? Or did you hire an external SEO consultant to do the job?
Ideally, your link builders have shown you a list of links they built. But chances are, they wouldn't tell you the whole story of how they got those links, and you probably wouldn't know how to tell if these links are good or harmful.
So why not spy on your team by reviewing the links they have built? The Backlink Analysis Report will show you several tell-tale signs of whether the links built are harmful or not.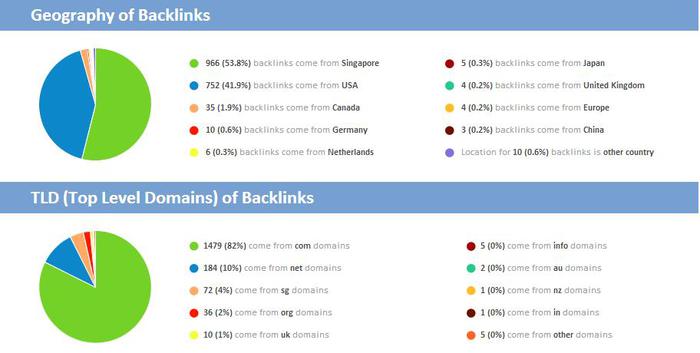 Where are your links coming from? Are they preferably from local sources, or are they from other unrelated countries?
Are you getting a significant number of links from Top Level Domains like .info, .in, .cn, .tv? Many spammy links are known to originate from there.
Where are those incoming links pointing at? Are 95% of them pointing at your homepage? That's a sign of a suspicious link profile.
What anchor text are being used? If more than 20% of anchor text is made up of a single non-branded keyword, that should spell trouble.
There are many more signs that will be shown in the full report. If you see anything suspicious, you can use it to confront your team and ask for explanations. More importantly, you should get them to stop before a Google manual penalty kicks in.
6. Find new link opportunities with the Backlink Analysis Report
One of the best ways to build more links is to find people who already linked to you. Since they already linked to you, it means they've had a positive impression of your site or content. That's half the battle won!
With the Backlink Analysis Report, you get a list of sites that linked to you. Now do yourself a favour by contacting these sites to thank them. Either send them a thank-you email for their mention, or leave a blog comment on the article that they mentioned you.
Doing this plants a seed of friendship, and internet relationships like this can pay off in the future. How?
If the other site accepts guest posts, you have an advantage of getting accepted.
If the other site has a 'Favourite Links', or 'Resources' page, you can ask to be included.
If the other site has a blog content similar to one of yours, you can request to share your link on their page as further reading.
The possibilities are quite frankly, endless. But it needs to start with you making the connection.
More to come
Did you like what you just read? I'm sure I can think of even more ways to use those reports in the future.
With a bit of creativity,  you can also think of more uses yourself. Pass the reports to your developers, content writers, or public relations person. I'm sure it will give them many ideas to help improve the SEO of your website.
Be sure to write in the comments below if you thought of anything interesting to share. We can all benefit from it 🙂
UPDATE: I no longer offer this service. Sorry!