It has been a while since I last did a blog post. I had been working on a few client's sites as an independent SEO consultant, and was seriously bogged down by them. It was fun though, but now at least I have some time to reflect on things I've seen the past few days.
The search industry is evolving very quickly. Methods of doing link building that were once thought to be effective were suddenly becoming less so. This made me wonder whether any of the top ranked local SEOs were using dubious optimization techniques.
Grey/Black Hat
Grey or Black hat SEO techniques are methods in which a website might try to trick Google's algorithm into giving them a higher rank than they deserve. These grey/black hat techniques violate Google's Quality Guidelines, and so are frowned upon >:(
I did a very simple research. I searched for 2 extremely competitive, 2-word, SEO-related terms that people will search for when looking for SEO agencies in Singapore (I'd rather not reveal). Both yielded different results, but many of the sites that appeared were similar, only in different positions. I added "&pws=0" into the search result's URL so as to remove any chances of my personalized search settings affecting with the results.
Disclaimer alert!
1. I will not disclose the names of the companies that I will researching on. I do not wish to publicly harm the reputation of any other companies, and I am afraid of hired SEO ninja assassins.
2. This research is to look into some techniques that I personally deem grey/black. They are NOT illegal, and thus these companies are not breaking any laws.
3. The methods they used for themselves might not reflect the actual methods they employ for their own clients. (though I'm sure what works for them would be used for their clients as well)
4. I am seriously afraid of SEO ninjas so I hope this article does not stir up too much animosity.[hr]
Tools That I used:
Open Site Explorer (OSE)
One of my favourite free SEO tools out there, it enables you to look at the links that point to a site. Getting the paid version will give you more detailed data, but for a simple check, the free version more than does the job. With this, we can look at the backlink profile of most websites.
Also another free tool (beginning to see the cheapo pattern here?). This is an extension I use for Google's Chrome browser. I use it to look at some background information regarding the website. With that, I can find out a site's Google PageRank, site age, use of meta tags and a whole wealth of info.
Before I start, I want to be share an interesting observation. My first page of results showed 10 sites. 5 of them had "#1 SEO" in their title or description. Who to trust?
Grey/Black Hat Technique #1
Blog Comment Spamming
This one is especially hard for me to take. I can safely say that this was the most frequently committed sin. Using Open Site Explorer (OSE), I was able to take a look at the external links that were pointing back at each of the sites. The number of external links ranged from the hundreds to the tens of thousands.
What surprised me was the number of links that came from blog comments. Now, blog commenting isn't a grey hat technique per se. However, many of them spammed comments on pages from highly irrelevant, heavily spammed and low quality sites. With an automated software, generic comments are left on blogs; a link and an anchor text that points back to the company's site.
Here is an extreme example.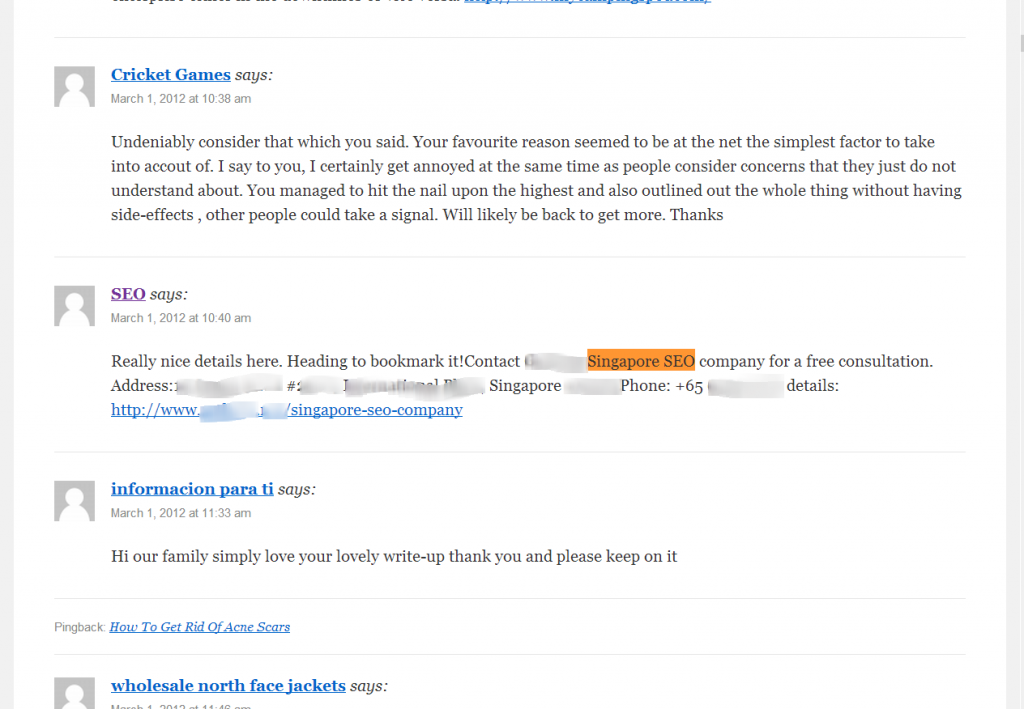 This comment was posted on an adult site no less. The URL of the site is www… you seriously thought I was going to post it? The other comments on the thread are hilarious considering the "content".
Obviously, the content on the site has nothing to with Search Engine Optimization. Second, the site had 12,000 spam comments with links pointing out. Such a blog comment link gives extremely little value to your site's ranking – but when multiplied by thousands of such low value links, it will generate *some* use.
I sure hope the company that employs this method does not use it for their clients.
Grey/Black Hat Technique #2
 Using Microsites/ Blog Networks
This one I found out after looking at one company's backlink.  This company rose very quickly up the ranks, and it caught my attention. I used OSE to look at the top backlinking domains, and I found something very suspicious when I delved deeper.
When you first look at these domains, they seem fine because they are high authority domains. Not much so for the pages that are actually linking back to the company site. When I opened the pages in the weebly.com domain, and some other domains further down the list, I found examples of microsites.
A microsite is a site that has very little pages, and are mainly focused on one keyword. Many free web builders like Weebly allow microsites to be built in a matter of minutes. In the example, the microsite had only one page, with about 500 words. It had one outbound link, which you guessed it, pointed back at the company site.
This is my theory of how such a method works. A microsite has been abandoned for years, and its age tricks Google into thinking it has some authority. A company takes over the site at a very low cost, adds some text to the single page, and links back to the company's site with an anchor text. The company then does aggressive link building for the microsite, and because of its age, it can be made to look like a popular page.
Main company site benefits because Google now thinks an authority site is linking back to it. Illegal? No. But it's definitely screaming all 50 shades of grey because of how it is trying to trick the search engines.
Grey/Black Hat Technique #3
Article Spinning
This one is also common. It's a pretty known fact that submitting articles to high quality article directories can help get good backlinks. You can write high quality articles related to your niche, and this information can be very useful to people who are looking for relevant info. It is a great way to brand yourself as a subject matter expert too.
A good thing can become horribly wrong when taken a step in a direction too far. There are agencies that absolutely spammed the hell out of article directories. One way to have enough content to submit to hundreds of different directories is to use an automated article spinner.
Such programs "digest" a text document, jumbles, rephrase and paraphrase the text. The program is able to churn out plenty of offsprings that look like the original, but are poorly phrased with grammatical errors.
The following excerpt was taken from an article posted on a low quality, low PageRank article directory.

You can tell just by reading. The article was made to be filled with some keywords, and the actual flow of the text is secondary. Such articles are not meant for human consumption, and I don't mean this as an insult. It literally was meant for crawlers only, so as to fool the bots into thinking it is an actual informative piece. How will this help anyone, or improve your branding?
Grey/Black Hat Technique #4
Mass Directory Submission
A web directory is an online directory where businesses and websites get listed and reviewed. Directories provide a way for websites of similar natures to be categorized together, and allow visitors to find such sites easily.
Directory submissions have generally gotten a bad rep, mostly because a lot of angencies claim they help increase your search rank significantly, so you  need to submit to hundreds of directories.
Directories do help, but only if they are authoritative, and have other authoritative businesses listed on them. These web directories need to be human run, and the directory owners have to vet each and every site that gets submitted to make sure they pass quality guidelines.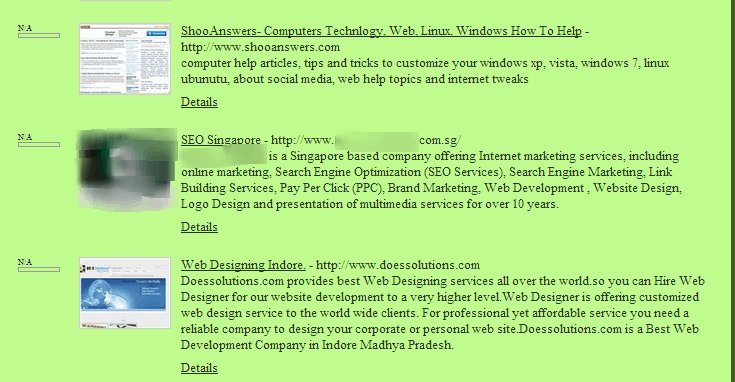 In the above example, one of the companies had submitted to a very low quality directory. A simple search would go on to show that the directory itself had been penalized by Google. The directory was filled will low quality sites, and that SEO listing was surrounded by non-SEO related websites.
Miscellaneous Greys
There are in fact a few more problems I found, but they are comparatively minor.
Over optimized, keyword stuffed Title Tags
Meta Keyword Tags still in use
Exact match, keyword anchor texts
False "Guarantee" claims
Last Words
This might actually be my last words if I face any backlash, though outing those companies was not my main intention. I had just become rather disappointed at the state of the search industry in Singapore. I am still relatively new in this business, and I have been hopeful for a mentor, or an example that I can follow.
One thing to consider is that the companies above might have hired an external search "expert" to optimize their website. They may not even know of the mistakes their websites are committing. There is even a chance they are under negative SEO attacks.
A few lessons that we can take away from this is :
Top ranked sites in Google does not mean quality sites
If you hire an external SEO consultant, make sure you demand to know every step of the optimization process
You need to know about Grey/Black Hat methods in order to avoid making those mistakes
It is a very thin line between optimization, and OVER optimization
Was this an eye opener for you? What other suspicious activities have I missed? Share your thoughts below.