Doing SEO yourself?
Search Engine Optimization constantly evolves. To excel at SEO yourself, not only must you possess some technical knowledge, you also need to be able to produce content, do marketing, and engage in public relations.
For most startups and small businesses, being budget constrained often means we have to take charge of search marketing activities ourselves. Sure, there are many guides online to teach us how to do SEO ourselves, but it is still far from an easy undertaking (which thankfully, keeps SEO consultants like me hired).
Why focus on habits?
You need almost no prior SEO know-how .
These habits are EASY to follow, especially if you are new to SEO.
You will get more SEO benefits naturally from following these habits, rather than trying to manipulate rankings with technical SEO knowledge.
The following habits won't directly lead to better rankings, but for those who do not have much technical SEO skills and experience, it definitely makes a huge difference. They will have benefits in the long run.
#1 Read SEO and digital marketing blogs regularly to stay updated
You need to stay updated with the latest digital marketing trends and major Google algorithm updates. There are a number of SEO blogs that I read everyday, and I make it a point to bookmark the best articles.
http://inbound.org/ – Plenty of great inbound marketing, SEO, SEM, and digital marketing articles shared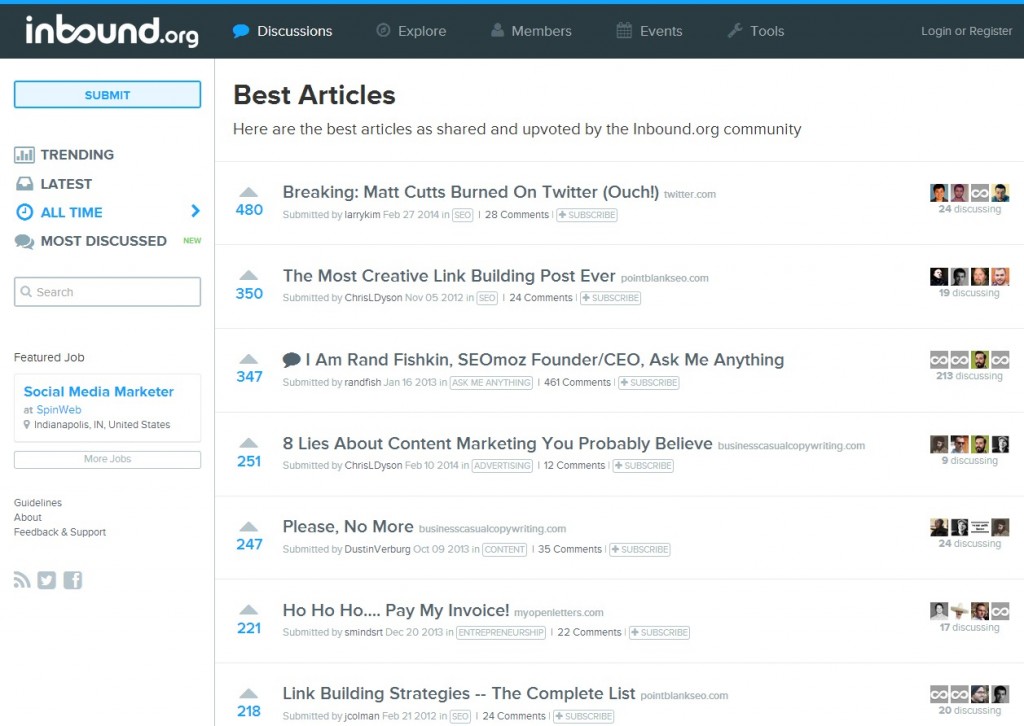 By reading these blogs regularly, you can improve your SEO knowledge, and stay up to date with the latest techniques that will bring traffic to your business. You can also avoid any potential pitfalls, in case a certain SEO strategy becomes frowned upon by search engines.
#2 Participate in blogs, forums and online communities to increase exposure
A huge part of link building is actually connecting with people in your industry. Earning links becomes increasingly easier when the influencers in your industry start to know you, and you have people talking about you. You need to start somewhere, and industry blogs, forums, and online communities are the best places to do so.
First, look for places where your clients or industry peers would gather. Search for forums and leading blogs in your industry. There will always be people asking for help, and from there, you can provide information that people are looking for.
Try Googling:
"your main keyword" + blog
"your main keyword" + forum
When you find such online communities, make sure you create a profile of yourself to reflect who you are, including your industry credentials. From there, you can participate in conversations, comments, forum threads, or upload useful documents. By doing these, you raise your own profile, and eventually people will notice you. This is a great way of making connections with peers. These connections may lead to possible incoming links, or become consistent traffic referrers.
To make your job easier, I created a list of active forums in Singapore for you to participate in. 
#3 Be engaged on Social Media
Social media sites have been an absolute godsend for online marketers and businesses. Sites like Facebook and Google+ have become a great way for small businesses to market their services and connect with their customers.
Although Google denies social signals are a direct ranking factor, almost all search marketers agree that social media plays an indirect role in search engine success.
Having a business page on Facebook or Google+ does not make you social; neither does regularly posting self-promotional updates. Actively participating in groups and communities do.
One easy way to get involved fast is to look for the leaders in your industry within your favourite social networks. Like Facebook? Search for companies and leaders, and follow them. Then find who these people are following – they are probably worth following too. Join the conversation.
Here's an advanced tip: Why not form your own community? Social networks like Facebook gives you the tools to run your own Group. By becoming the manager of such groups, you can be automatically seen as a leader, and you can monitor conversations easily. Just remember not to become self promotional.
#4 Always make sure you are link worthy
Incoming links count as popularity votes for your website, and links from highly relevant and highly authoritative sites are extremely valuable in bringing in traffic and improving the SEO of your site.
There are far too many methods to build links for me to cover here; luckily, you can find tonnes of resources if you just Google "link building guide". Most of the best methods you will learn require you to have a website that is worth linking to. The same way that you wouldn't want to link to a lousy site, and send your visitors to shady looking pages, others wouldn't want to link to you for the same reasons.
Make it a habit to ensure your site:
has genuinely useful and awesome content that other sites would want to send their own visitors to
has information or online tools that cannot be found anywhere else
has a good design that does not look outdated or scammy
is not filled with ads and popups
is not infected by malware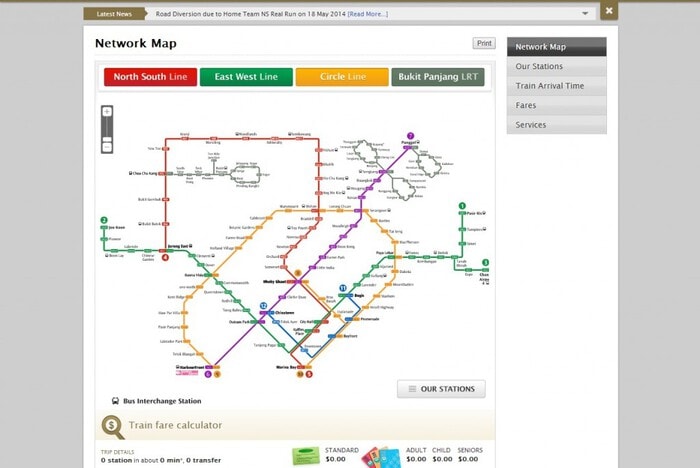 A great example of something that is genuinely useful, and is also an online tool? This Network Map found on SMRT's website is also a train fare calculator. It has almost 1000 external backlinks to it from 285 other websites. This is definitely something link worthy, and the results show.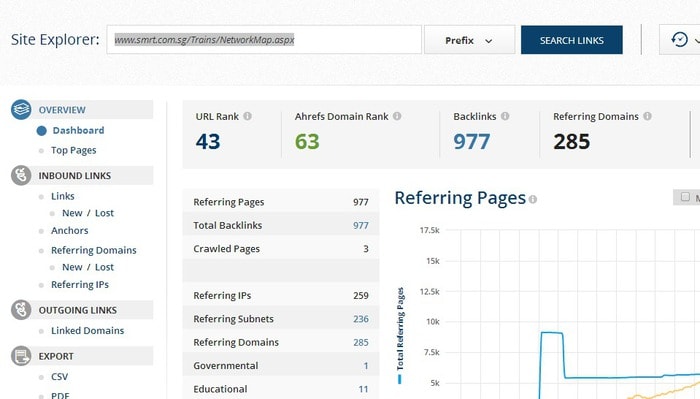 #5 Blog regularly
If I had to choose one habit over the rest which I feel can make the most difference to your website traffic, it would be this.
I cannot overstate the advantages of having a blog on your site. I'm a little ashamed to make this point considering the less than optimal post updates on this very site. HOWEVER. Please update your blog regularly.
Why? Because a blog will add relevant content to your site. The topics you cover will ultimately help you target longer tail keywords, and attract a wider range of traffic.
As long as you keep blogging, you don't have to worry about whether you should stop SEO, or what will happen if you stopped.
There is just no reason not to blog regularly. If you do blog, just make sure your blog posts are SEO friendly.
#6 Check Google Webmaster Tools regularly
Have you connected and verified your website on Google Webmaster Tools yet? NO!? I'll go for a 5 minute commercial break while you learn how to set up Google Webmaster Tools.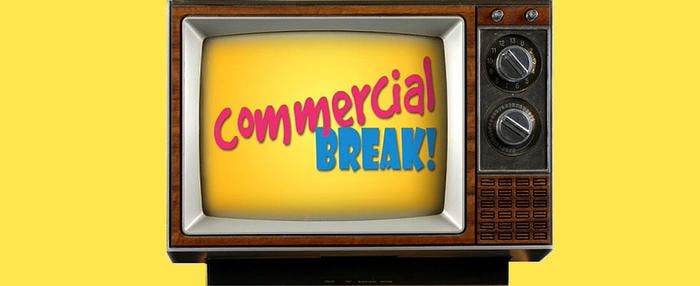 Here are some reasons why you should check Google Webmaster Tools at least once a month.
Identify any 404 error code on your website – a sign of broken links or lost pages
Find out if there is any sudden drop in indexed pages, or pages blocked by your robot.txt
Check for any manual penalties (if you have been naughty)
Discover any major security issues
Assess the quality of new links to your site
#7 Sign up for Google Alerts
This is one simple trick I teach my clients to get easy contextual links.
By signing up for Google Alerts, you can monitor the web for mentions of your brand, your name, or certain branded keyword terms. Whenever Google finds an article that makes this mention, you will get an email notification, with a link to the article with the chosen keyword.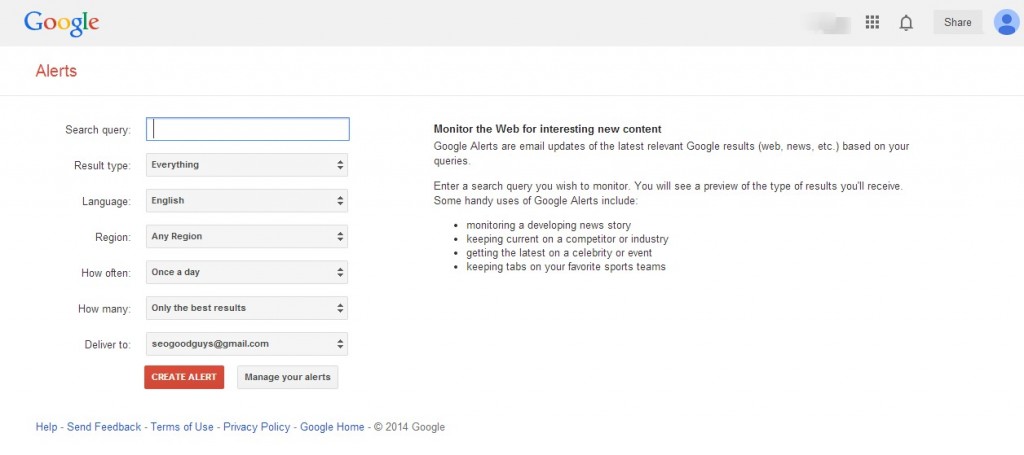 What you should look out for are unlinked mentions. That means, an article that makes a mention of your brand or name, but does not link back to your site. When Google Alerts finds such an article, you should attempt to contact the author of the post, and politely request that they link back to the source – you. They might not always comply, and sometimes they might ask for a small fee, but this is one of the best ways to get a link.
#8 Stay healthy and don't succumb to stress
Last but not least, this is a habit that I'm sharing based on my personal experience.
Trying to run a successful website is stressful. Attempting to do SEO yourself to market your website is exponentially more stressful. It's not easy trying to handle the on-site technical issues, while constantly trying to create content and reaching out for public relations.
I have been overwhelmed by the sheer amount of work and mental fortitude needed to run a successful campaign – and I manage multiple clients. Stress, burning out, and even depression can easily creep on.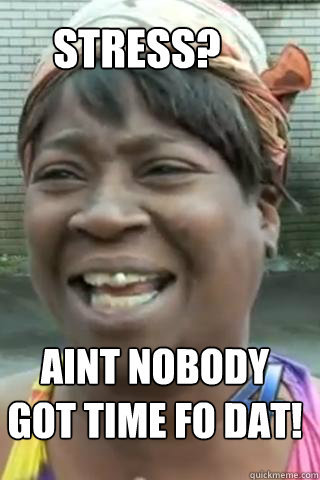 For me, I've made it a point to exercise a little every week. This mostly involves jogging at night. You need your mind to stay sharp and focused. Sit in the right right office chairs for better posture. Exercise, eat well, and have enough rest.  Do whatever it takes to manage your stress. You are already fighting against competitors, algorithm updates, and market trends – don't make your body and mind your enemies.
What's next?
If you are able to follow these habits to a tee, then congratulations!
While it looks simple, most people just do not have the discipline to follow these simple steps. It's entirely possible to NOT know advanced SEO, and yet have a very successful website. These habits will ensure that you focus on good content, have a good relationship with peers online, and provide great value to your visitors. Those alone will help you succeed.
Are there any habits that I missed out? Do share, for the benefit of everyone 🙂