Updated in October 2019.
Where to get local citations in Singapore
Want to know where to get the best Singapore citations for local SEO?
If you aren't including local SEO into your overall SEO strategy, you are missing out on one of the best ways to get locally targeted search traffic to your website.
Take a look at what happened when I searched for "carpet cleaning" on Google.com.sg. Google knows my location (Singapore), and high on the SERP (search engine results page) are local listings of Singapore carpet cleaning companies.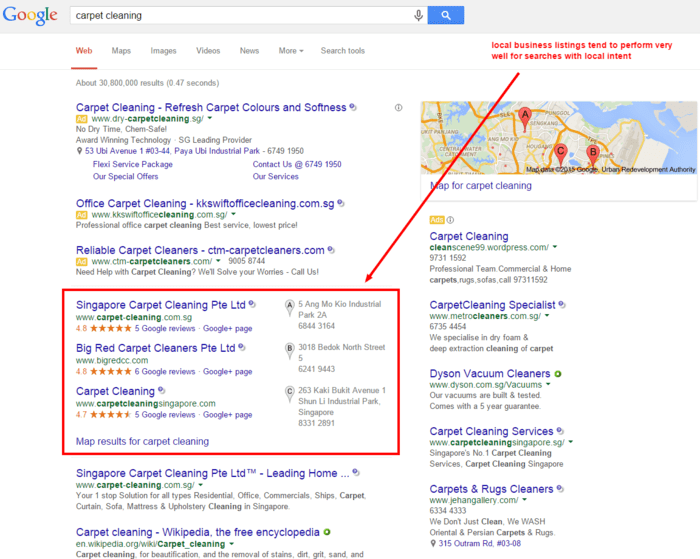 These are verified local businesses which offer carpet cleaning services, and the way that they got so high up on the SERPs is slightly different from standard SEO.
What is local SEO?
Local SEO refers to techniques and strategies that are based on providing results that are relevant to a searcher based on their current location. Basically, if you have a website that provides a service mainly aimed at locals, you need local SEO.
Breaking it down simply, to do well in local SEO, you need to excel at the following factors:
on-page SEO
physical location is close to the searchers' location
consistent Name, Address, and Phone number (NAP) across the web
have positive reviews
have many quality links from local websites
last but certainly not least, attain quality local citations
What are local citation sources?
First, a citation is a mention of your business name on the internet. It doesn't even have to be a link. The best citations are ones that contain your business name PLUS phone numbers, business addresses, and even a website link. Example:
Local biz Pte Ltd.

10 Citation Avenue

Tel: 1234 5678
Citation sources are therefore, websites that can display a citation of your business. Citations sources- like links, can vary in relevancy and quality. A citation from a random forum in Russia would definitely be far less valuable to a Singapore website than a local citation from a local business directory.
Why I'm compiling this list
There are many good articles out there on how to do local SEO.
However, I couldn't really find information about WHERE EXACTLY to get good local citations specifically for Singapore.
Thus, I took it upon myself to try to find as many types of websites as possible for citation building.
*One huge bonus of building citations this way is that you also get plenty of quality links in the process too!*
---
The list of citation sources for Singapore local SEO
Remember, these are just some examples. There are more sites out there in your industry that you can find.
Your own website
To top the list of best citation sources, your very own website would be up there. In fact, you should have a consistent Name, Address, and Phone number (NAP) across every single page of your site, and across the web.
---
Search engines
First of all, you can't appear as results on Google maps or the local listings if you don't have a verified Google My Business listing.
Go ahead and get these done first.
Google My Business  (you need to get your business verified on to even appear as a listing)
Bing Places (unfortunately, it's not open to Singapore addresses at this point)
---
Social sites
A no-brainer source is social networking sites. Chances are, you've already create a bunch of profiles on top social sites, so why not add your NAP to those social profiles?
Citations and links from profile pages on social networking sites are some of the easiest to get. Go nuts!
Facebook
Linkedin
Twitter
Pinterest
---
Local business review sites
There are plenty of websites in Singapore that are directories of local businesses, but also function as a review site with social aspects.
Yelp
Foursquare
TripAdvisor (paid)
The Smart Local reviews
Apple Maps 
---
3rd party review sites
There are many review sites in Singapore that specializes in a certain niche. Instead of the more general business reviews, you can find review websites that cater to specific industries.
You can find more by searching for "keyword/niche review + Singapore".
Examples:
Restaurant/food reviews
HungryGoWhere ( get listed via InSing )
Spa reviews
Beauty related reviews
For Doctors and Medical practitioners
---
Local business directories
Business directories, while not as widely used as before, still offer some value in getting exposure to your site.
I've already covered local business directories in an earlier post. You can take a look at the list of directories in Singapore to get your links and citations.
Top 20 Singapore Business Directories List
HealthHub Directory  (If you have a health/wellness/related business, you can try getting listed here)
Ace Startup Directory (List your startup here)
---
Niche directories
Are Singapore business directories too general and limited in numbers for you? Try directories in your niche.
Search for "(main keyword / your niche) directory + singapore"
Examples:
Wedding directories
Yoga directories
Spa directories
---
Town council websites
Did you know that town councils in Singapore tend to have their own websites for each corresponding area? Most of such websites have a list of 'handyman services' that residents can reach out for simple services and repairs. You can try to get listed on 'useful links' pages if you offer certain services in the area. Get creative.
Ang Mo Kio town council
Pasir ris – Punggol Town council
Bishan – Toa Payoh Town council 
---
Area specific websites
In some cases, there might be certain sites that are catered to residents of a specific town in Singapore. I found 3 such examples. Try to look for such websites in your area of operation.
Punggol.sg
Sengkang.sg
Queenstown
---
Mall specific directories
Is your shop located inside a mall? You might be able to add your NAP inside the mall's website directory. Some mall websites enable its tenants to display contact information and even a website URL. Search for your own mall!
Hougang Mall
Frasers Centrepoint Malls
Junction8
---
Local Classifieds
If you're already using free local classifieds to promote your services, leverage on them to also feature your NAP on the ads. These are pretty good at driving so-so volumes of highly targeted traffic.
Locanto
Craigslist
Gumtree
STclassifieds
---
Local forums
Forums, like classifieds, are good ways to promote your business cheaply, and to drive targeted traffic.
You can start a new thread promoting your product or service, or just put your NAP in the signature. The key is to contribute useful information and not to spam.
Find more by searching for "keyword + forum"
Singapore Motherhood Forum
Hardwarezone Forum
VR-Zone forum
SgForums
I did the work for you. Here's a list of active forums in Singapore that I found.
---
Local event guides and directories
This is a trick you can use. You can create and hold events on your location for grand openings, training, open houses, sales promotions, meetups.. etc.
Get creative here!
What's Happening
EventFinda
Eventbrite
---
Job portals
If you have money to spare and also looking to hire someone, you can get some good links and citations from job sites in Singapore. (you can look for free alternatives too)
Just create a job posting which includes your NAP and website URL.
---
Local Chamber of Commerce and Trade Associations
This is a little old school, but the citations and links you can get are quality! Each site has different criteria for joining the chamber, so you've got to figure that out yourself.
Singapore Chinese Chamber of Commerce and Industry
Singapore International Chamber of Commerce 
List of trade associations and Chambers of commerce
---
Local coupon and group buying sites
While the group buying craze has settled in Singapore, you can still use deal coupons to get exposure. Furthermore, you have the ability to feature your NAP and website URL on the online coupons.
MyFave
StreetDeal
---
Local Expat Network sites
Similar to business directories, these sites are however targeted at expats in Singapore. It's still worthwhile to have your business listed in their directories.
AngloInfo
Singapore Expats
Smart Expat
---
Using Press Releases
Not exactly a source but more of a tactic.
When you are distributing press releases to either journalists, bloggers, or press release syndications, you can insert your NAP in the press release too. Websites that pick up and feature your story will likely also display your NAP on their articles.
---
Your own partner sites
Do you have partner sites that already link to you? Why not request that they also include your NAP on the page where they link to you?
If you aren't leveraging on your business partners for citations and links, I suggest you send them a polite email request immediately.
---
There's probably more, but I'll need your help
Last recap:
Have NAP on your website
Verify your business on Google My Business with consistent NAP
Have consistent NAP on each local citation source
That's it from me for now. If you have other ideas for citation sources, do share them in the comments below.