What Is On Page Optimization?
For other SEO services that I offer, check the SEO consultation page here.
On-page optimization or on-site optimization is the process in SEO that aims to make the content and structure within a webpage look relevant and accessible to search engines.  It is called on-page because the main factors that affect rankings appear on the webpage itself. 
There are several important on-page elements that contribute to whether a site is viewed favourably by search engines when compared to other search results.
They are:
Title tag and Headers
Proper HTML Tags
Meta Tags
Internal Link Structure
Keyword Optimization
URL and Domain name
Anchor Text
The general rule is that on-page factors can help determine how well your site will be indexed by search engines. For startups, optimizing your on-page factors is one of the most important things you must do well. If your site is not optimized to be properly indexed by search engines, you would be losing out on a large chunk of organic search traffic.
How I do On Page Optimization
How about injecting a bit of your personal style into your site?
We understand how important it is to portray accurate information to search engines and users. We also want your results to stand out. With a little creativity, on page SEO can help you strengthen you brand and pull in traffic from your desired audience.
What I will do is to first do an SEO technical audit. We need to find what may be wrong with the on page elements on your site. If there are any errors, we will rectify them. However, just getting rid of errors will not help you significantly if you have strong competition.
If you have already done prior keyword research and settled on the best keywords to represent your products and services, we can go ahead and use them for your site optimization.
In order to do to a proper on page optimization, you need to do keyword research first. Doing an on page SEO without prior keyword research is like asking a student to study for a test without telling which subject it is (quite pointless).
By fusing the keywords with your own personality and style, we can create attractive Titles that people want to click.  If you are looking for beauty tips online, which of the two results below would appeal to you more?
Eye Make-up Tips For Women | Beautytips
www.beautytips.com
OR
Eye Make-Up Secrets Angelina Jolie Kept for Herself | Beautytips
www.beautytips.com
Probably the second. Both had important keywords in them (eye make up), but the second one seemed more interesting because it was unique.
That is what we can do. We spice things up with our marketing flair and creativity.
How will On Page Optimization help?
The following is a client that was in serious need of on page optimization. Their previous site was badly developed, and there were many parts of the site that were not properly indexed by Google. the website was lacking in textual content, the structure of the site was a mess, and keywords were not properly used. I recommended a total site revamp coupled with keyword research and on page optimization. Well, the results speaks for itself.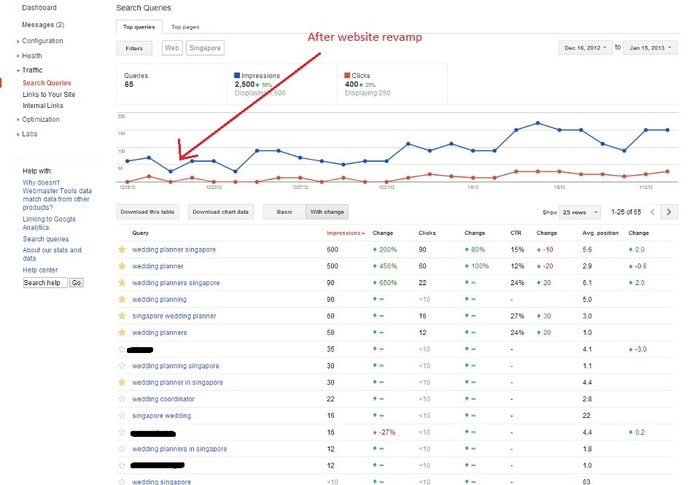 We saw an almost 60% increase in search impressions, and 25% increased clicks from Google. I'd say that's pretty good considering the campaign barely even begun.
Price
I charge a flat rate of $450 for optimizing 5 different pages of your site. You can choose which 5 pages you want me to work on. Usually, it can be broken down into 4 different types of pages.
Homepage
Landing pages (e.g. Services page, sales funnel page)
Archive pages (e.g. Category pages, directory category)
Content page (e.g. blog posts, articles)
For example, you can choose
One Homepage
One Archive page
Three Landing pages
Once I've worked on those pages, you can easily follow the blueprint and replicate the steps on any future pages you wish you create.
Feel free to discuss with me what services you really need. Fill in the form below.