If you are like me, someone who has to take on multiple marketing roles within a business, then I would recommend a jack of all trades marketing tool like SEMrush.
A One Person Marketing Team (OPMT) is:
a small business or startup owner who has to handle marketing due to limited budget
an intern who is tasked to do marketing because the business can't afford a marketer
a single in-house marketing executive hired to oversee all marketing activities
someone who runs an affiliate site, authority site, blog, or e-commerce website
One person marketing teams often face these 3 problems in digital marketing: no budget, no time, no experience.
You need a tool that can enable you to drive more traffic to your sites, without being too complicated, and still remain affordable.
SEMrush is the tool I will easily recommend to any one-person operation or small teams without a marketing specialist. If you have just one admin personnel or intern handling digital marketing, this is also perfect for you.
A brief introduction to SEMrush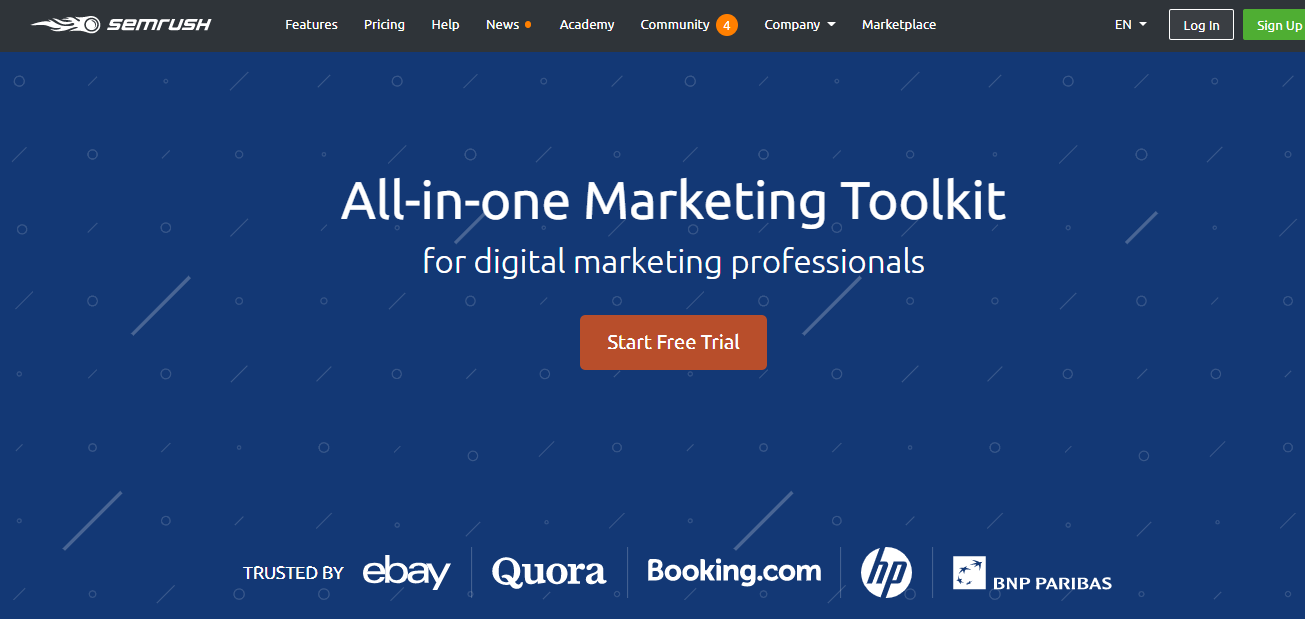 SEMrush is an all-in-one tool suite for improving online visibility and discovering marketing insights. It has tools and reports that are able to help:
Search Engine Optimisation (SEO)
Pay Per Click (PPC)
Keyword Research
Competitive Analysis
Social Media Marketing
Public Relations
Content Marketing
Industry Traffic Insights
To start, try doing a domain research for your own website or top keyword.
Here are what I use SEMrush for. I will show you how one person can accomplish many marketing tasks using the tools found in SEMrush. I'll also try to rank for "Semrush review" using my own techniques.
Click to skip to the section.
1. Use SEMrush for SEO (obviously)
a) First, do a technical SEO audit
Having a structurally well built website that allows search engine robots to crawl and index your site is the foundation of SEO. Technical SEO is the process of finding out what areas of your website is not good for search engine crawlers.
The SEMrush SEO audit tool allows you to find all the errors on your website that might be stopping Google from crawling your website, and offers you steps into how to fix those problems.
This is not a technical SEO tool for the hardcore nerdy types. Use Screaming Frog or Deepcrawl to get the job done if you want an enterprise level audit tool.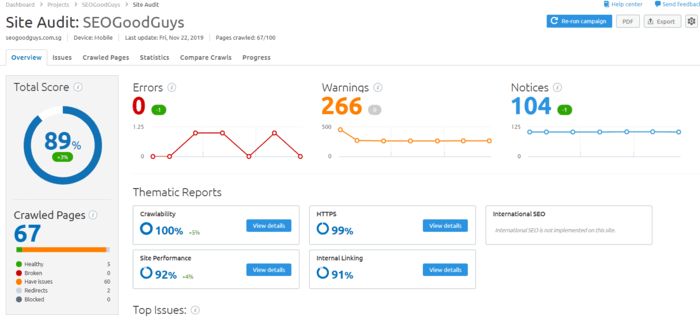 What SEMrush does, which fits OPMT, is that it cuts down on a lot of time wasting. This is how you do an audit with SEMrush.
Set up a website crawl that runs overnight. Go to sleep.
Wake up. SEMrush tells you what you need to fix, in what priority.
For each issue SEMrush finds, they provide helpful guides to tell you how to fix those problems.
Once you fix the problems, do a crawl again.
SEMrush lets you compare crawls so you can track your progress.
You can even schedule crawls at regular intervals which saves you so much time. And you can check in via email for any major issues.
This way, you can have a peace of mind knowing your site is healthy and you can focus on more important growth things like content and marketing.
b) Next, do a detailed Keyword Research
Keyword research is the foundation of SEO. It is important to know what keywords to target, how to use those keywords in your pages, and what type of content you should write around that keyword topic.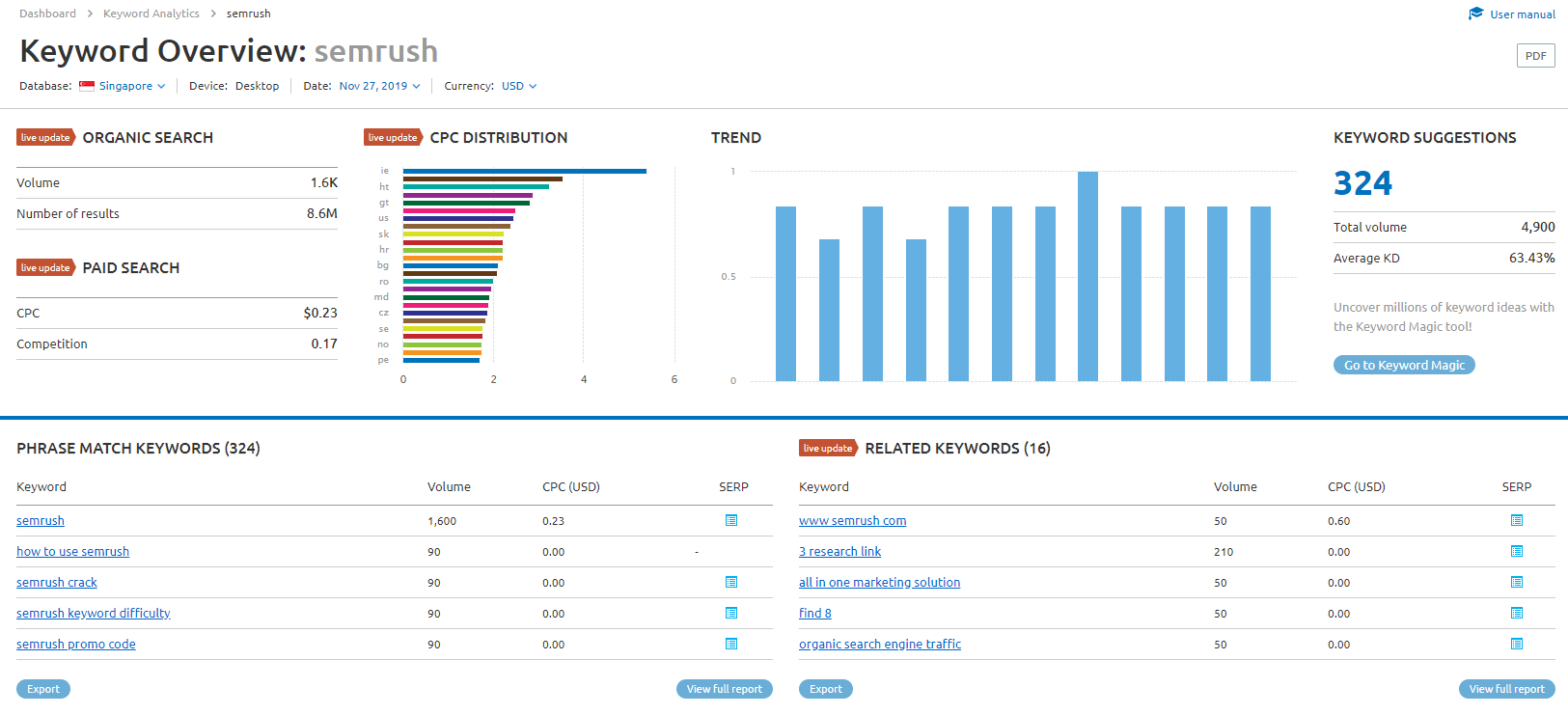 Choosing the right keyword to target is something that I, even today, take a lot of time to do. I spend a lot of time poring over data sets, looking at what competitors do, figuring out search intent, so that I can choose the best keywords.
It's tough. It'll make or break an SEO campaign and it's why clients pay me to do this for them.
Most OPMT don't have that luxury of time nor expertise.
Luckily in SEMrush, you can use the keyword magic tool to quickly build up big lists of keywords and easily add them to your project. Simply do a search of your main keyword or topic, and let SEMrush do the rest.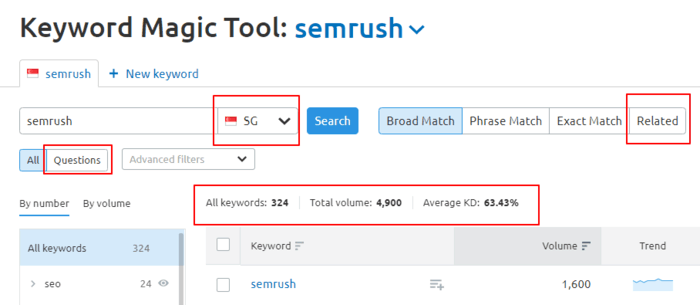 The keyword tool tells you the best keywords that you should be targeting on your pages. This helps you create pages that people are actually searching for, and improves the chances of that page succeeding.
(But what if you don't even know what keyword to start with?)
c) Reveal your competitors' secrets by using competitive research tools
Not a marketing expert? Just copy your competitor's marketing strategies that work for them
You can't do a Semrush review without mentioning competitive research! SEMrush started as a competitive research tool. Its bread and butter is about collecting as much data about websites as possible.
This means we can use SEMrush to find out things our competitors want hidden.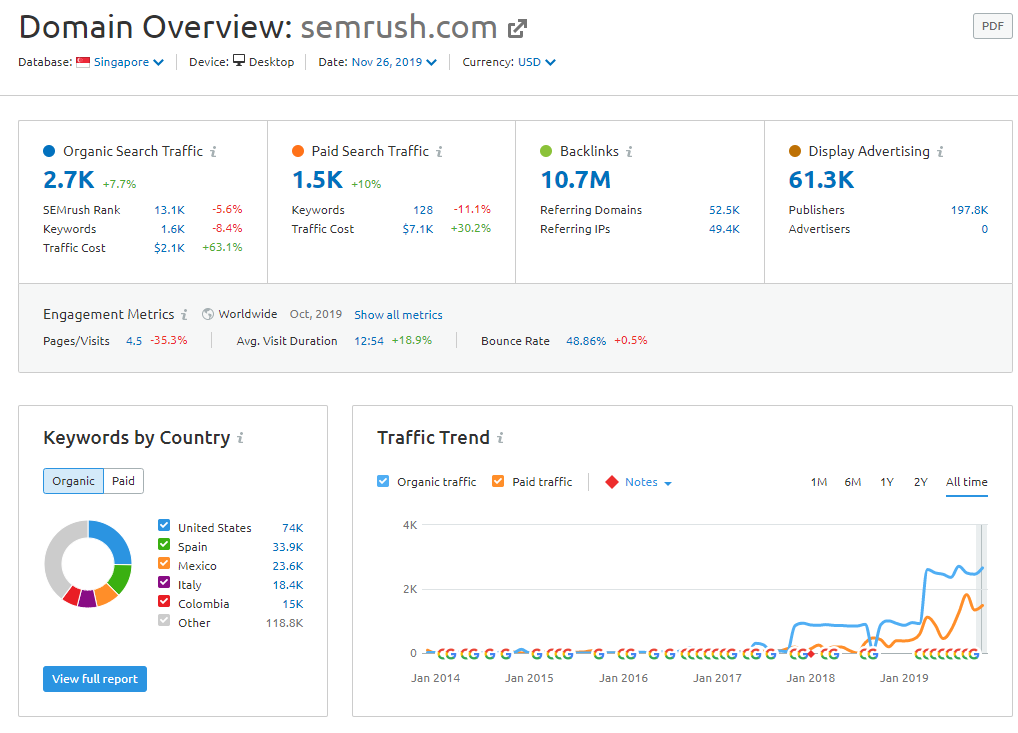 Not sure what are the right keywords to target?
Save time on research by looking at keywords that your competitors are using. Simply put your competitor's domain into the Organic Research tool and look at the keywords your competitors are using.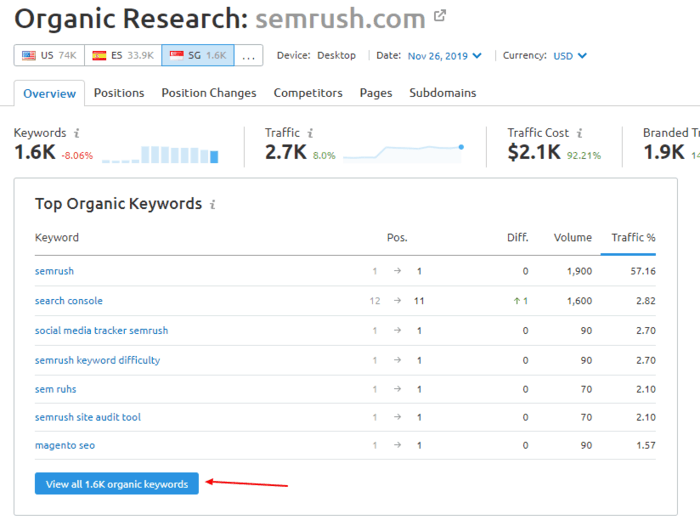 The keyword gap tool shows you the keywords that your competitors are targeting that you are not. It can reveal opportunities for new services, new products, or new content that you can pursue.

Want to know what sites are linking to your competitors but not linking to you?
The Backlink Analytics reveal your competitors' backlink sources. You'll be able to see your competitor's marketing campaigns and partnerships with other websites.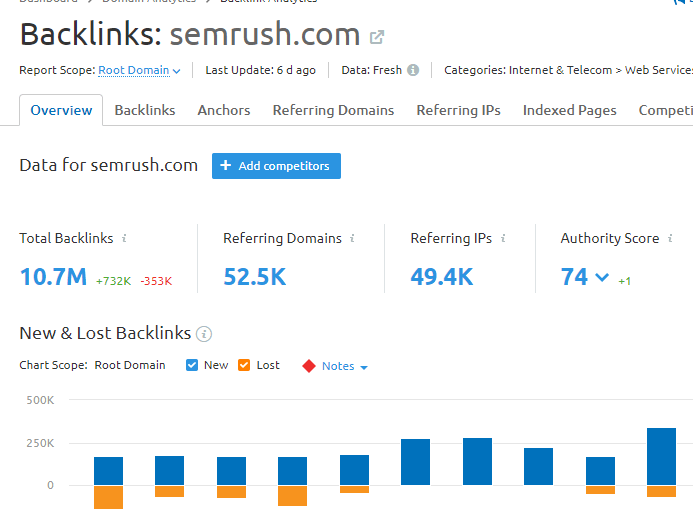 For data nerds like me, it contains enough granular data for me to reverse engineer what makes a competitor successful.
For busy OPMT, you definitely don't want to look at endless data. You want to quickly get insights and an action plan. I'll cover that in the Link Building Tool section later.
d) Streamlined link building process
I would be lying if I said that you can rank in competitive niches without building links. To build links, you either have to manually place a link to your site (called a backlink) on another website, or you can convince a site owner to link to you.
Eventually, you will have to outsource link building to an expert because link acquisition can be a time intensive and manual process, which sometimes requires creativity and negotiation skills. But as a OPMT, you can use the SEMrush link building tool to find easy links to attain for yourself.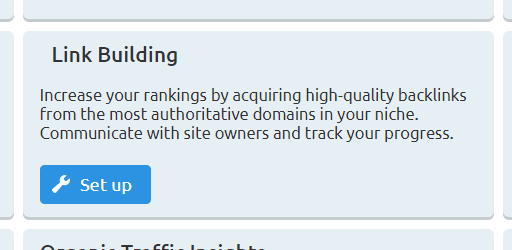 Setting up a link building campaign is as easy as clicking on the Set Up button, inserting your main keywords and choosing your top competitors.
Let the tool run in the background, and within minutes, it should be able to find at least a few hundred prospects for you to start your link outreach.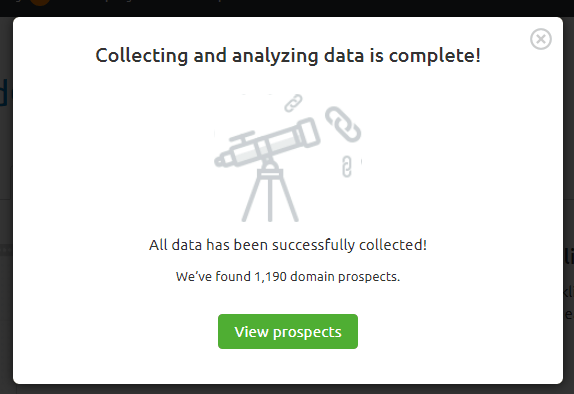 Prospect URLs are given domain and trust scores, so you know which links to prioritize or skip. You are also able to filter the links so you can identify the types of links, and the types of outreach strategy you would want to use.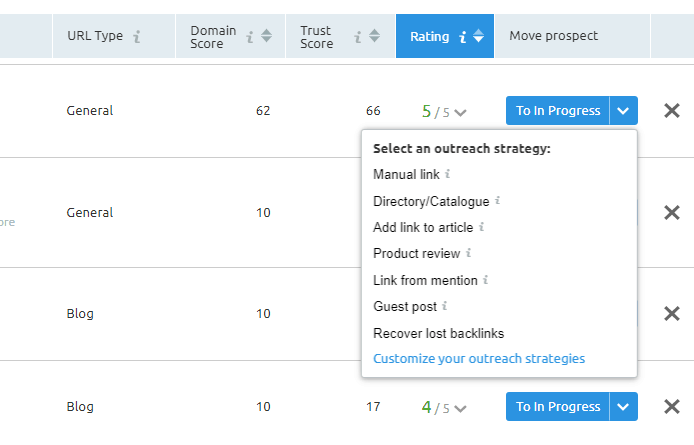 SEMrush also has its own outreach tool inbuilt which you can send outreach emails. They find the email address of the prospect for you, and it even has outreach email templates, and also email tracking!
Do you know how much specialised outreach tools charge for these by itself?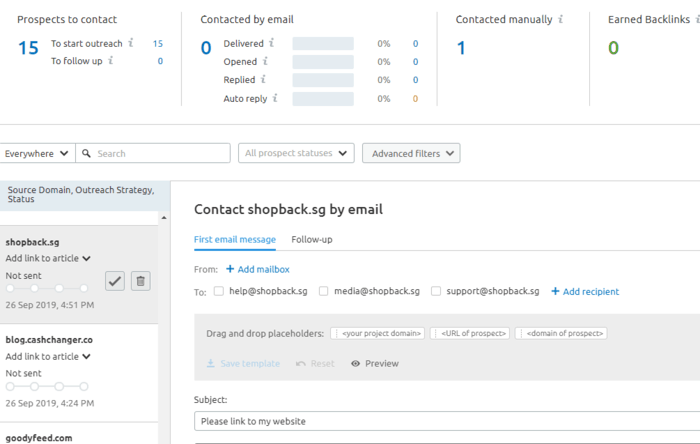 Other link research tools like Ahrefs might give you more data and link index. But SEMrush collects the data behind the scenes, helps you to rate and sort the links, and include an outreach tool. This makes it so much easier for a OPMT to build links with limited time and budget.
e) Automated keyword rank tracking and automated alerts
To monitor and measure your SEO progress, use SEMrush daily rank tracking. It checks your keyword positions on Google every 24 hours, on desktop or mobile, in your desired location, and comparatively against competitors.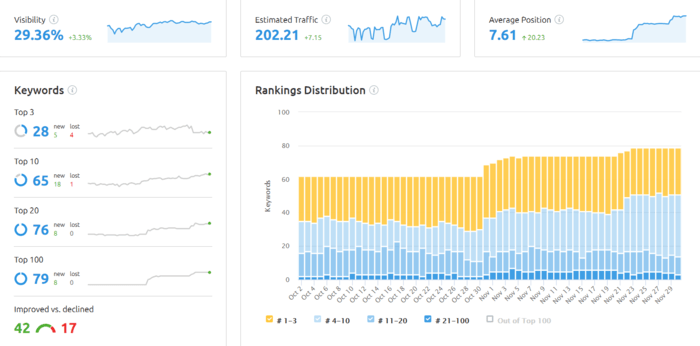 As a busy OPMT, you probably won't want to manually check your rankings everyday.
There is no need to anyway. (that rhymed..) SEO takes time, and rank improvements could take weeks and months.
What I like is you can set alerts to be sent to you automatically when a major ranking change happens. You'll be able to tell when a page suddenly drops out of top 10 (for example), to immediately go in and diagnose the problem.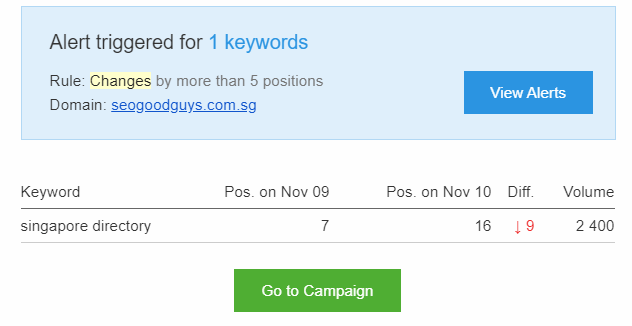 You can also set to receive weekly email digests that tell you generally how you have performed on a week to week basis.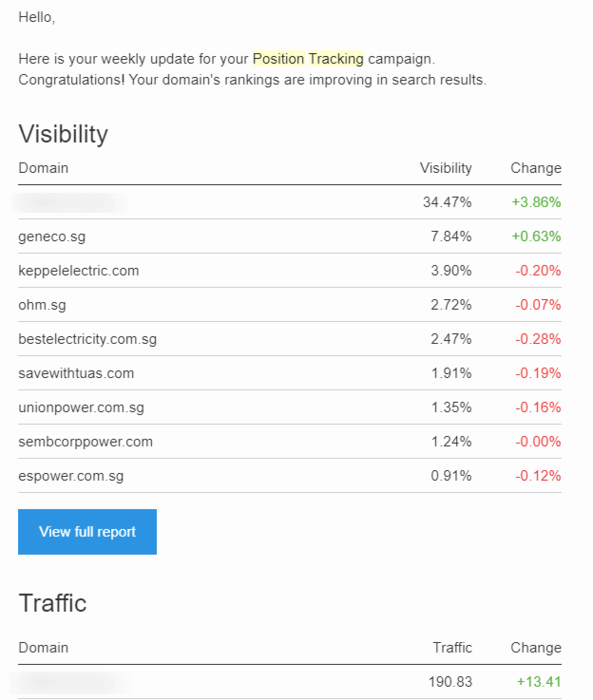 You free up so much mental energy from having to keep track of all those keywords, and being notified about changes automatically helps you get on top of things.
This frees up your time as a OPMT to really focus on more important tasks that generate revenue and traffic.
2. Use SEMrush for Content Marketing
Imagine writing an article that is read by 100 people from Google every month, without having you to advertise. Now imagine if you have 20 of such articles.
That means you get 2,000 views consistently from Google, for free. Imagine 1% of the readers, which is 20 of them end up buying whatever you are selling. Every single month. And it adds up. That is the power of content marketing fueled by SEO.
Using SEMrush for Content Marketing, I can consistently create articles that have demand, and I'm able to optimize them for maximum SEO impact.
a) Easily find ideas for writing content that people want to read
Like how I mentioned earlier, by using the Keyword Magic tool, you can build lists of keywords based on main keyword ideas.
What to quickly come up with content ideas based on your topic? Just click on Questions and you can see a list of commonly searched questions for your next article idea.
You will be able to know exactly the questions that people most often search for. Once you identify these commonly asked questions, you can write articles to address them.
You can drive a lot of traffic to your site when you have many articles answering common searches. You don't even need to be a professional writer because you are just answering questions you already have the answers for (being the expert in your field).
b) Topic Research shows you what competitors write about and for you to brainstorm new ideas
The Topic Research tool is one of the main reasons why I decided to buy the Guru plan ($199/month), because it is so powerful. You'll need the Guru plan to get unlimited topic searches.
How does it work? You simply search a broad topic idea, and SEMrush does the rest.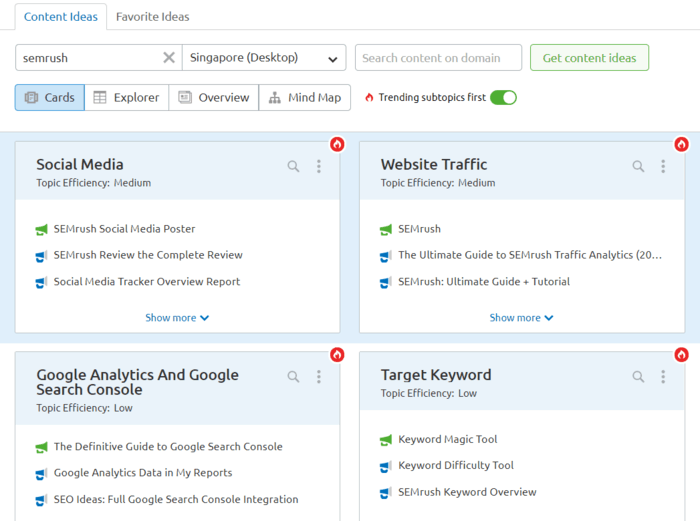 What you get is a large number of content headlines that your competitors have written about this broad topic, grouped into subtopics.
Semrush gives you the subtopic volume, difficulty to rank, and even tells you whether is it efficient for you to write content around these subtopics.

You'll be able to glance the top headlines AND see a whole list of questions related to the subtopic. You'll never run out of ideas.
This is immensely helpful for anyone trying to come up with content ideas as it cuts down on a lot of research and brainstorming time.
c) You can then use the SEO Writing Assistant to write content that performs well for SEO
After you've decided on the content you want to write, head over to the SEO Content Template to see how you can write a well optimized article.
When you input your target keyword, the Content Template finds SEO recommendations based on the top 10 rivals that are already performing well.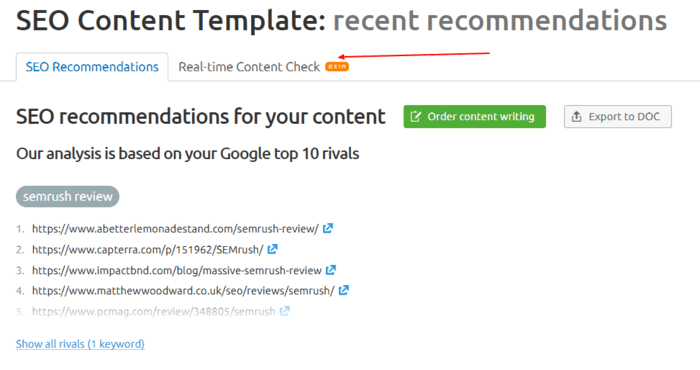 You don't have to be an expert writer with SEO knowledge to write a search optimized article because the SEO Writing Assistant guides you along. You can simply start writing inside the tool, and real-time recommendations are given to you.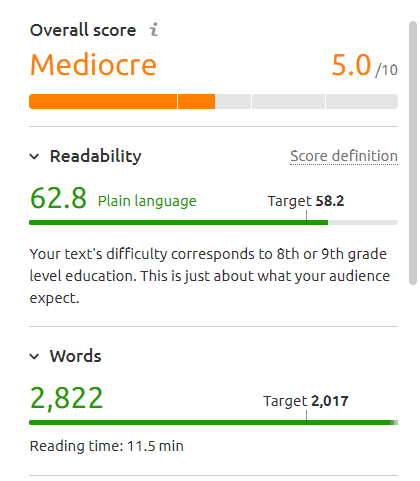 The Writing Assistant does these as you write:
Optimises your content for targeted keywords
Makes sure your content is easily readable
Checks your content for plagiarism and originality
Ensures you maintain your brand's tone of voice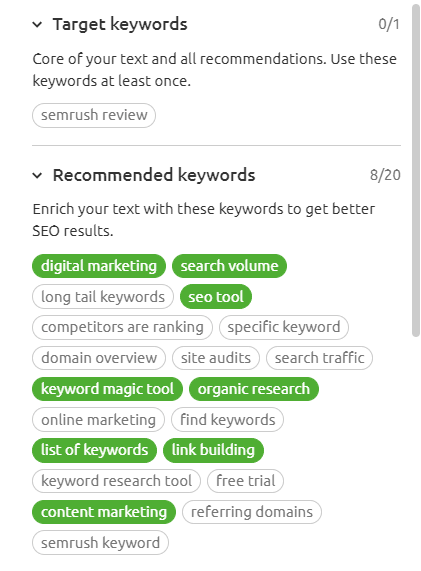 Soon, you will be able to write search optimized, easy to read, and unique articles that are more likely to perform well on search. At the same time, good content are worth promoting on social networks.
Obviously, being a tool that can do it all, SEMrush has the tools for social media marketing too.
3. Use SEMrush for Social Media Marketing
After publishing your article, you will need to share it with as many people as possible to get more exposure. A well rounded digital marketing campaign should have strategies to help build your social following and engagement. That is what the SEMrush Social Media Toolkit does.
a) Use the social media posting tool to post to multiple social profiles at once
The first step with promoting your content is to share it with your own social profiles. Doing it one at a time is too time consuming for a OPMT.
Use the social media posting tool to publish your content to multiple profiles at once. You can get more social traffic and build your local following for up to 5 different social sites using 1 tool.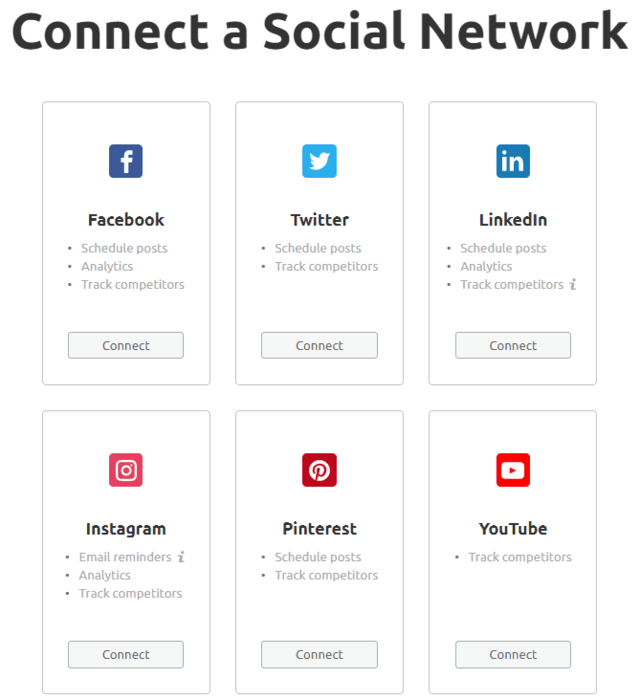 SEMrush allows you to connect to top social networking sites like:
Facebook
Twitter
LinkedIn
Instagram
Pinterest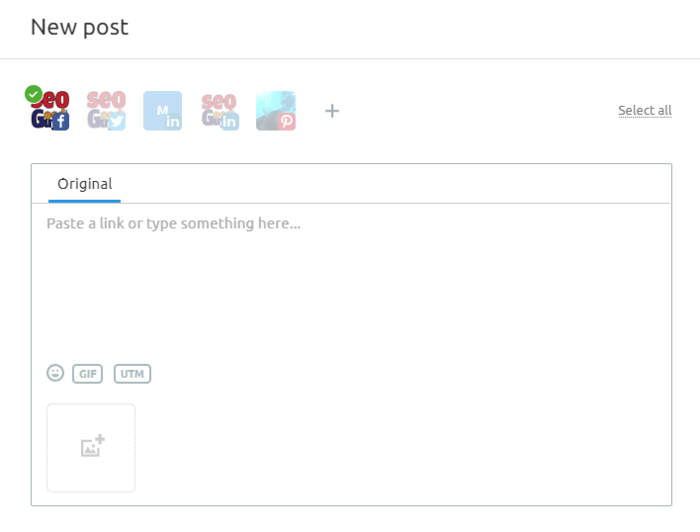 You can publish latest articles, new promotions, status posts, or even motivational posters with cute cats.
b) Schedule posts for an automated social marketing campaign
You can schedule posts so that they show up on your audiences' feeds at the best times.
You can easily schedule multiple posts so that they fire not only once. This is a great way to constantly engage your followers and get social traffic regularly. Your social feeds get a constant stream of posts even when you are busy.
You can manually queue up to 6 different time slots so that your social accounts get a constant stream of content. You can even choose to post regularly on a daily/weekly/monthly basis if you have any regular promotions or offers.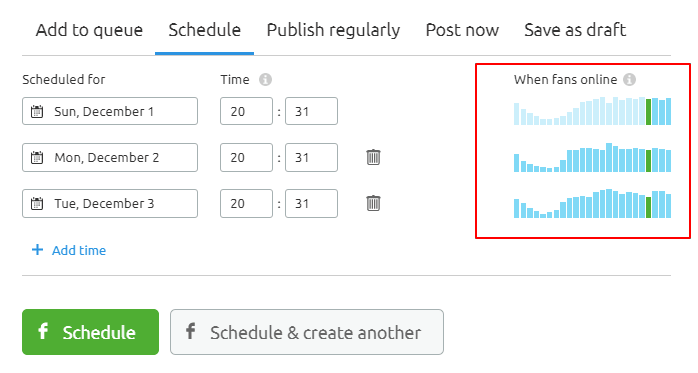 Best of all, SEMrush tracks when your own audience are most active on a day-to-day basis. You can schedule posts to go live at the best times to maximise your reach and exposure.
How would you know that doing these is actually helping you grow your social engagement?
c) Track your social media performance and growth
It's not enough to simply publish and forget. You need to make sure your audience are engaged, and your community is growing.
SEMrush's social media tracker allows you to see the overall performance of your social accounts and also the performance of each post you make.

See which of your social channels get the most followers and engagements. It could mean that most of your customers are hanging out more in that channel and you should focus more effort in marketing there.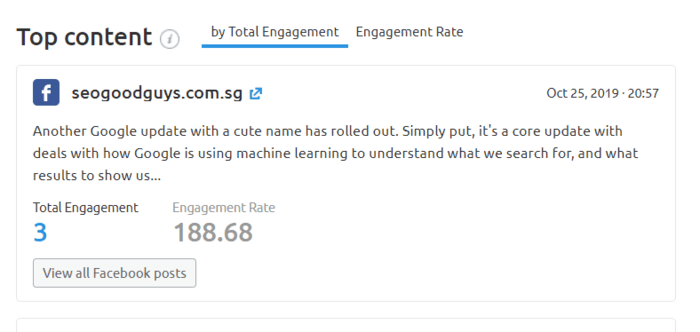 See which of your content performs well and engages your followers. You can get a good idea of what type of content or status updates your followers prefer so that you can create more of that type of content.
Diligently posting content and tracking what works will help you grow your loyal audience. In most cases, hiring a social media marketer to handle these tasks is better. But when you are a small business or startup, you might not have the monthly budget to hire one.
4. PPC Toolkit: Improve your Google Ads campaigns
I'll be honest. I don't have much experience with the PPC toolkit of SEMrush because I help clients with SEO more than Search Engine Marketing (SEM). For my own websites, I focus on SEO and social media marketing too.
However, being in digital marketing for years, I know how Google Ads advertising works. I am still able to see how powerful the PPC toolkit is.
The toolkit has a number of features that will benefit any one man operation or small team:
a) Advertising Research
Reveal your main paid search competitors
See the keywords they are bidding on
Discover examples of their live ads
b) Display Advertising tool
Get an overview of your competitors' Google Display Network (GDN) strategies
Analyze competitors' display ads
View display ads from different devices
Target the right audience with Audience Insights

Explore which exact search terms your paid search competitors are bidding on. You'll be able to get CPC and search volume estimates for these keywords, as well as competitive density. This will allow you to decide whether you need to bid on these keywords or not.
While saving time and money, you can benefit from your competitors' experience with ad campaigns, and avoid their PPC mistakes.
Even if you don't have a PPC specialist on your team, with SEMrush, you'll be able to run PPC campaigns using whatever you know is working for your competitors.
To recap: This is how a OPMT can use SEMrush to run a full digital marketing campaign
Do a technical SEO audit and improve overall website search friendliness
Do competitor research to reveal their strategies, keywords, and backlinks
Keyword research to find best keywords and content topic ideas
Find backlink opportunities and do link building
Do content marketing and create search optimized content
Do automated content promotion with social media marketing
Improve PPC performance and reveal competitors' PPC strategies
Track progress of SEO, SMM, and PPC campaigns
Who is SEMrush not for?
We've come to end of this Semrush review. Now that you know why I recommend SEMrush in this review, let me bring you down to earth with a few caveats. SEMrush is an excellent all-around tool that comes with a tonne of features, but it is not for everyone.
If you are REALLY budget tight, but still want an all-in-one tool like SEMrush, I would suggest SE Ranking. SE Ranking is like a SEMrush-lite, in that it has many similar features. It's definitely not as robust. Prices start as low as US$23.40 per month.
If you have a team of digital marketers each with their own specialisation, I would suggest having a specialized tool for each of them.
If you intend on concentrating fully on SEO, with nothing on PPC advertising and SMM, I would suggest Ahrefs. In general, Ahrefs has better keyword data and a bigger link database than SEMrush. (I personally pay for both, and use them both to get a good mix of data.)
For technical SEO audit, use Screaming Frog (£149 per year) or a cloud audit tool like Deepcrawl (starts at US$62 per month).
If you want a social media marketing tool that does what SEMrush does and more, you would be better off with Buffer (starts at US$15 per month) or Hootsuite (starts at US$29 per month).
If you want a specialized content marketing research tool, try BuzzSumo (starts at US$99 per month).
For a specialized PPC tool, WordStream starts at US$299 per month.
Which SEMrush pricing plan should you go for?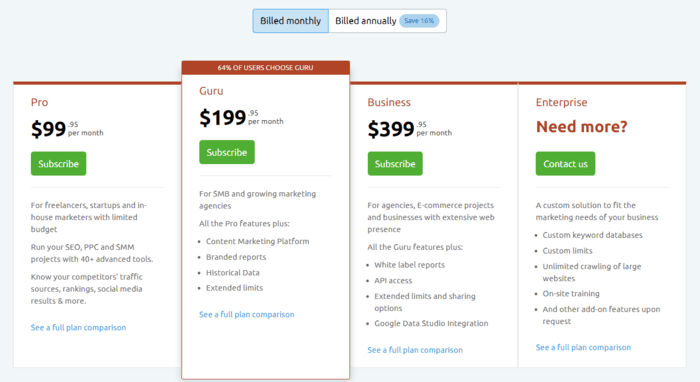 For a one person marketing team managing less than 5 websites, I would suggest starting with the US$99.95 per month PRO plan (or US$83.28 per month if you pay annually).
If you handle more than 5 websites and need to target multiple locations per project, I would suggest the GURU plan. The GURU plan also provides great data limits for content marketers. This is the plan that I'm currently using. It's US$199.95 per month (or US$166.62 per month if paid annually).
Go ahead, give their 7 day free trial a try. Mess around with the tools and limits, and see for yourself how much SEMrush makes your job easier.
(This article contains affiliate links. If you click on an affiliate link to make a purchase, you won't be paying more, but we'll get a small referral fee.)