Another SEO consultant in Singapore !?
If you are looking for a unique SEO consultant who can work closely with you to grow your business online, you've found the right person.
I have help over 100 SMEs in Singapore drive search traffic, improve brand awareness, and get more online leads/sales since 2011.
Who am I
My name's Marcus and I am based in Singapore. I've been in Internet Marketing and have worked in the SEO industry since 2011.
I started independently providing SEO consulting services for Singapore websites since 2012. I love working with Singapore small businesses and startups (soft spot).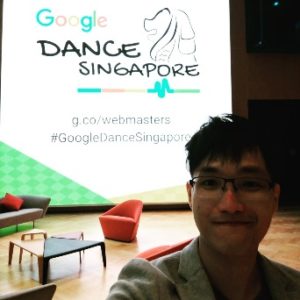 Me at Google Dance 2018
I see myself more as a search strategist these days, and I enjoy the creative aspect of SEO. I specialize in holistic SEO. It means my strategies aim to improve all facets of your online exposure, with a focus on long term organic traffic growth.
Some awesome businesses I've worked with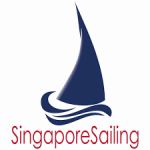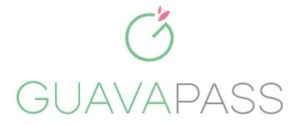 ---
What my team and I can do for you
Website SEO technical audit: I usually start my SEO consulting services by compiling an in-depth analysis of your site's on-page optimization and locate errors with the code and structure. This is to ensure the technical side of your website does not affect your ranking ability.
SEO strategy development: If you have a SEO budget, but do not know how to best utilize it, I can work with you to form a SEO strategy best suited to your needs. It's 2018, and internet marketing is no longer as straightforward as before. I will help you leverage on your assets and manpower to define a custom strategy for long-term search marketing success.
Keyword research and analysis: Using multiple tools and methods, I can find a huge range of profitable keywords for you to choose from. I will also analyze each keyword's competition and search volume, so we can identify the best opportunities.
Competitive analysis: Do you want to know exactly what your competitors are doing and how? I'll break down their on-site tactics, content, and how they get their best links.
Link Building Strategy: Getting natural, high quality links has become an absolute must. Let me review what strategies you can use to attract the best links. I put your brand and long-term success in mind, so I will not use any spammy link techniques.
Content Strategy: Content marketing is an excellent investment towards building your brand, and attracting links naturally. I will come up with a suitable strategy for content specifically for you.
Retainers for quality assurance: Do you have some SEO knowledge and have a marketing team, but need someone to provide guidance for assurance as you implement your changes? I can be contracted on a per project or monthly basis.
Align to business goals. Keyword rankings are useless unless they directly lead to improvements in your key business goals. I'll keep track of how improvements in organic traffic can lead to an increase in leads, revenue, sales, and brand growth.
Website SEO Review: (currently not available) This is what I recommend to most businesses without at least a SGD$1000-2000 monthly budget for consultation and marketing. I will review your website's health, give you a 6 month strategy tailored to your business, and provide you with specific action plans to follow.
What to expect from my SEO consulting services
Careful consideration of website goals and business needs
Open communication and close collaboration
Transparency and accountability
What others say about me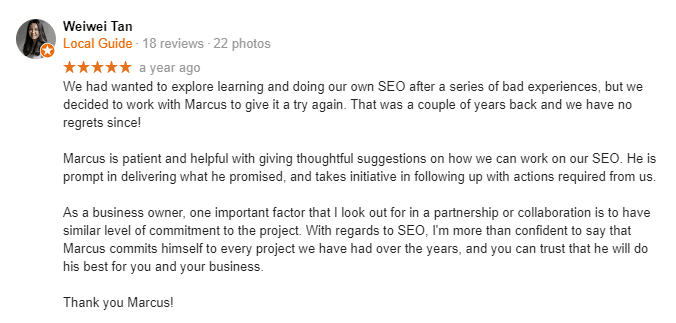 My prices
I don't have a fixed pricing structure or monthly packages because no 2 websites are the same. In general, the client's I work with have a budget of $500-$5000 a month.
Ask me for a custom plan for your business needs.
Drop me a message to get a free consultation. No obligations, just open discussion.