If you have an email account, chances are you've gotten your fair share of spam mail. It's also not surprising that in this day and age, having multiple email accounts is normal (I think I manage 10 accounts), so you can just imagine how much spam we have to sift through each day.
Not another SEO Email spam!
There's personal email spam, and then there is business email spam. For the rest of us who own websites, we have it much worse. We get tonnes of random emails from people selling their services. Unsolicited email spam comes in the form of random people pitching SEO services, web design/development services, and recently, even mobile app development.
Never hire a SEO company via unsolicited emails.
This holds true 99% of the time. This is why such SEO Emails should always go straight to spam.
Here is an example of a typical SEO pitch email that you should always ignore.
The following was sent to me about a month ago, and has not been altered in any shape of form, whether it's the grammar, spelling, or even format.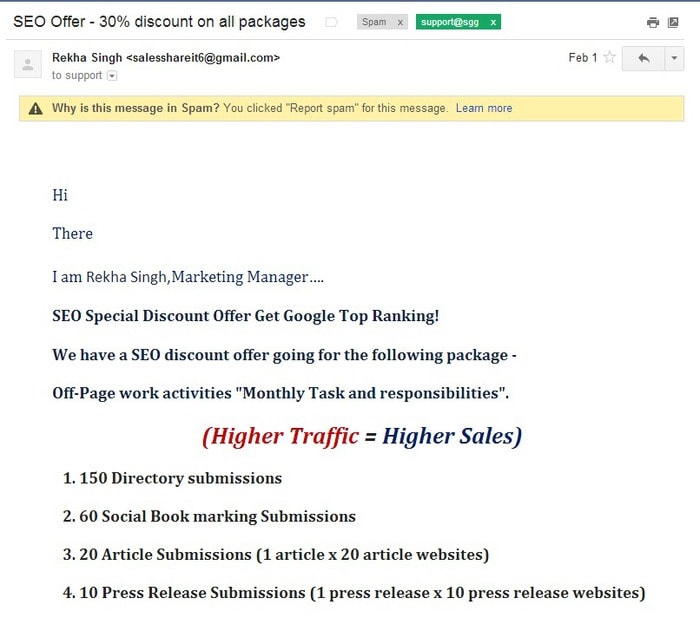 I left the name there because I'm not even sure that is a real person. In fact, I've received another 3 EXACT emails, with 3 other different Gmail addresses, with different names.
Hi
There
I am Rekha Singh,Marketing Manager….
SEO Special Discount Offer Get Google Top Ranking!
We have a SEO discount offer going for the following package –
Off-Page work activities "Monthly Task and responsibilities".
(Higher Traffic = Higher Sales)
1. 150 Directory submissions
2. 60 Social Book marking Submissions
3. 20 Article Submissions (1 article x 20 article websites)
4. 10 Press Release Submissions (1 press release x 10 press release websites)
5. 10 Blog Comments
6. 1 unique, 400 word article written
7. 1 unique, 400 word press releases
8. 10 Search Engine Submissions
9. 20+ One Way Directory Link On-Page work activities "Follow only first month"
10. Meta tags/Title tag changes
11. Keyword research/Analysis
12. Competitor Analysis
13. Heading tag changes
14. Alt tag changes
15. Interlinking wherever required.
16. Keyword density in site content.
17. HTML Site Map
18. XML site map and Submission in webmaster tool
19. Ror.XML File creation
20. Robots.Txt File creation Extra work activities
21. Google Webmaster tool
22. Google Analytics
Please let us know in case you are interested.
Thanks' Regards,
Rekha Singh
Online marketing executive
PS: This email is not spam, it was manually sent by us, our sole purpose being to introduce ourselves to you with no obligation on your part. Your email address was found to be publicly available on your website and it has not been added to any list. We consider this to be a polite way to contact you and apologize sincerely if you have been inconvenienced in any way. We are obliged to offer you an 'OPT-OUT' from future mailings from us; should you wish to exercise this right, please reply with" OPT-OUT" in the subject field.
First signs of trouble
1. If the mailer was serious about pitching to me, she would have found my name on the About Us page. Either she's lazy, unprofessional, or a robot – all of which are reasons I would not consider replying.
2. Look at the English!
Hi
There
I am Rekha Singh,Marketing Manager….
Please do not tell me they expect me to take them seriously if this is how they start the pitch.  It even sounds like a cyborg!
Please let us know in case you are interested.
Thanks' Regards,
Rekha Singh
No. Just no.
3. They contacted me with a Gmail account, and no mention of the company name anywhere. There is just no way I will trust these guys!
You run the risk of being penalized by these outdated link building tactics.
It is no surprise that a company that would use Email spamming to get leads, would also use spammy link building methods. A disclaimer: these methods by themselves aren't actually black hat, or spammy. It's just the way a company attempts to excessively rely on these methods, that they become link schemes.
150 Directory submissions
60 Social Book marking Submissions
20 Article Submissions (1 article x 20 article websites)
10 Press Release Submissions (1 press release x 10 press release websites)
10 Blog Comments
Here are some evidence direct from the mouth of Matt Cutts  (Head of Google web spam team) implicating these potentially harmful methods.
On directory submissions. 
As far back as 2011, Matt had stated that directories have to be subjected to 'substantial editorial discretion' in order for links to be qualified as a non-spammy. Do not expect any 'editorial discretions' when it comes to those 150 directory submissions. Only submit your website to the highest authority and relevant directories.
On social bookmarkings.
Quite similar to directory submission, once you overdo these, it becomes what Google describes as "unnatural links that may violate their guidelines".
On their Link Schemes page, comes this paragraph:
"Additionally, creating links that weren't editorially placed or vouched for by the site's owner on a page, otherwise known as unnatural links, can be considered a violation of our guidelines. Here are a few common examples of unnatural links that may violate our guidelines:
Low-quality directory or bookmark site links"
On Article Submissions.
Matt personally recommended not to upload to article directories. Over the years, article directories have become websites with spammy, low quality content. He also mentioned that in recent Google algorithms, links from article directories will be 'less successful' than before.
On Press Release submissions.
Press releases are actually still relevant in getting high quality editorial links, provided you have really newsworthy releases that industry sites want to report. As you might have guessed, not every business has that kind of newsworthy story. It is also very costly to write and release high quality press releases to major media outlets (think hundreds to thousands of dollars).
What SEO companies like our friend over here do is they write a low quality press release, and submit them to press release submission sites. These sites have very little link value. according to a comment made on a Google Webmaster thread.
On blog comments
Matt Cutts: "if your primary link building strategy is to leave comments all over the web, to the degree that you've got a huge fraction of your link portfolio in comments,  and no real people linking to you, at some point, that can be considered a link scheme."
 I also have a minor problem with these.
8. 10 Search Engine Submissions
Google dominates the search in Singapore, with over 80% market share. There really isn't an incentive to submit to other search engines. Anyway,  Google will automatically crawl your site and index it as long as it's been live for about a week. No one should charge you for submitting to search engines if search engines do it themselves automatically.
9. 20+ One Way Directory Link On-Page work activities "Follow only first month"
Frankly, I have no idea what that means. I hope I'm not missing out on any cutting edge SEO techniques.
21. Google Webmaster tool
22. Google Analytics
Again, I hope these guys aren't charging a whole lot to set up a Google Analytics and Google Webmaster Tools account for you. I wouldn't argue against the usefulness of these tools. However, it's absolutely free to sign up for these 2 accounts, and setting up is relatively easy!
Now you know.
These are just some reasons why you should ignore 99% of SEO pitches through email. Such companies usually use SEO strategies that *might* work for a few websites in the short term, but will do major damage in the long run. Their low cost just isn't worth the price.
Great SEO companies need not rely on Email spamming to get their leads. They either do well on search engines themselves, or they have people singing their praises and giving them leads through word of mouth.
For Part 2, I will expose the 2nd kind of SEO related emails that you should avoid. Stay tuned!