These SEO methods should stay in 2012.
Epic FAIL. My first reaction when I encountered them. Now, I wouldn't say that I'm an SEO guru by any measure, but I do know what a serious SEO "offence" is when I see one. I've seen these negative examples when I look at other people's blogs, but sometimes, I can personally experience them myself.
Kids, do not try these at home! (Or anywhere else actually)
Link Exchange
This used to be popular in the past because it was a quick and easy way to get links from others. You just had to ask a stranger on the net to place your link somewhere in their site, and you will reciprocate by placing their link on yours. Chances of success were extremely low, so webmasters relied heavily on spamming others.
And this happened to me.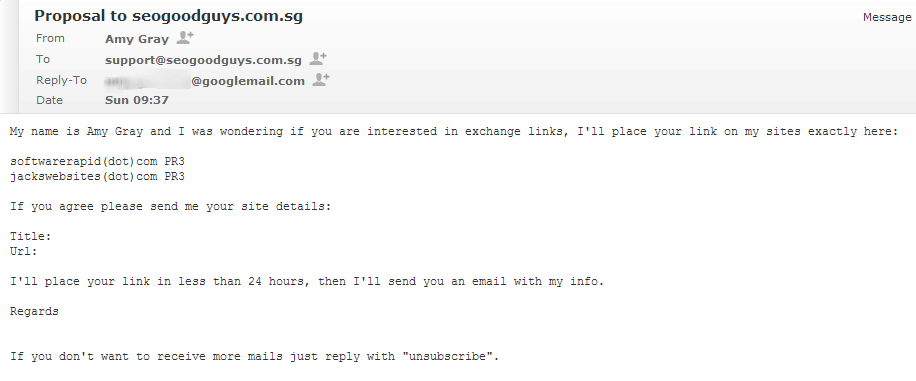 Dear Amy, at least you had the decency to link me to (somewhat) SEO related websites. However, I did a little research and I noticed your sites were full of links to other spammy sites, and your reputation on the net is less than pleasant. Epic Fail!
Link building is about forming relationships online, and building trust is a big factor. If I were to link out to websites that I personally do not endorse, it will reflect badly on my own reputation. The link in this case isn't useful to my readers, and does not relate well to the content in my site.
Proper method: 
One is better off spending the time building real relations with authority figures in your niche, and getting a one way link – which is a much better endorsement. If a link exchange HAS to be made, make sure the other site is reputable and has content that can actually benefit your visitors.
Mass Link Building Proposals
The following company offering link building services might not necessarily be bad, but there is nothing in the email that explains how they will accomplish their link building. So in my opinion, Nope!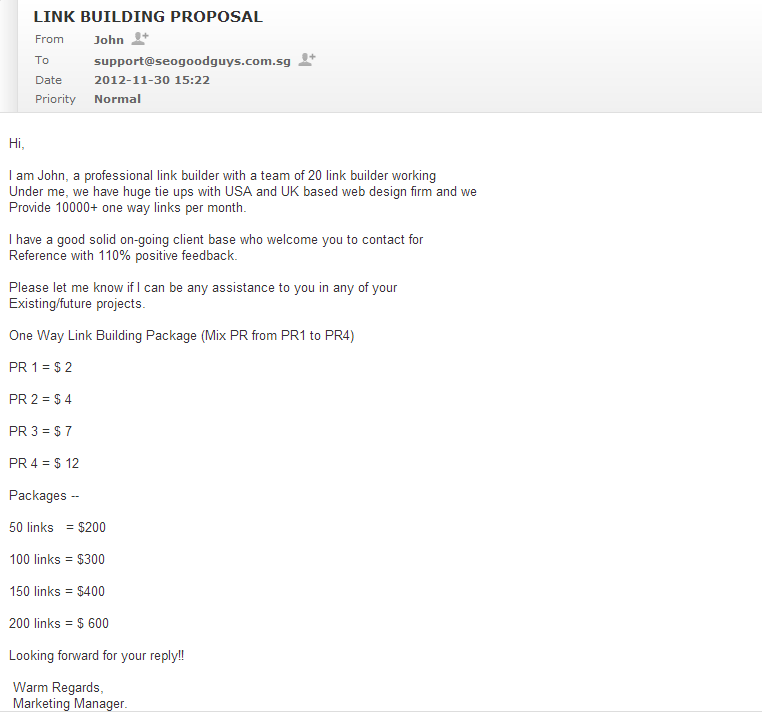 At first glance, it doesn't look THAT bad. I can't really say that it is an epic fail unless I know how they will do their link building.
Based on experience, such link building services rely heavily on blog commenting and forum posting. To churn out such a high number of links, they tend to rely on spamming blogs and forums. Notice that they did not specify whether they will link to relevant sites, or whether the links are NoFollow or Dofollow?
Furthermore, such link building campaigns that focus on a large number of links might not be good for everybody. Suddenly getting a huge number of links is just too unnatural, especially for a new site. Google has been known to catch on to such schemes and taking action.
Proper Method:
There are plenty of methods to build links. Check out this awesome article from SEOMOZ about the many ways to build links.
Blog Comment Spamming
Speaking of blog comment spamming, I never thought I would be a victim of them within days of publishing my first few contents.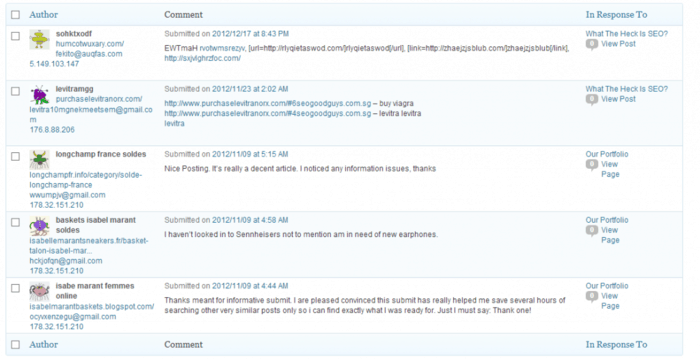 Surprisingly, automated blog comment spamming still works for some lucky people out there. They are lucky because
Google hasn't sifted them out and punished them yet.
The webmaster did not check all their comments for spam – to remove them like I did.
Companies are still providing this spamming service despite it becoming less useful and majorly frowned upon.
Spam comments add zero value to the content; they serve just to obtain a backlink. Many comment spam come in the form of "nice post!", though you can easily tell that they are spam because they have lousy grammar and contain a spammy looking link.
This is an Epic Fail because seriously, comment spamming is so out of fashion. The comments end up in low authority, low PageRank, and non-relevant sites that add close to zero value to your Search Engine Optimization efforts. Worse, if most of your links come from comment spam, Google can devalue your site!
Proper Method:
Blog Comments and Forum Postings should be used wisely. If you have to leave a comment with a link back to your website, make sure the comment is constructive and adds value to the post. You can contribute additional points, or give a view from another perspective. The link also has to point to something that relates to the article, or further adds to the topic.
More Fails?
As long as there are people who are not up to date about the latest changes in the Search industry, we can witness more errors made. Unfortunately, many of the fails are actually committed by ill-informed and outdated SEOs. Do yourself a favour and ask your outsourced SEOs what are their strategies for you, and what they implemented.
Still hungry for more fails? I will leave that for another article. I have come across more examples, but they relate more to my clients. Example: One of my clients previously hired an SEO that did link building for them; only to create backlinks from adult sites.
Juicy story? Till the next time!
Have a good Fail story to share? What other SEO errors have you seen? Share them in the comments below!