I compiled a list of 36 forums that are still active in Singapore
Are people actually still using forums in 2019?
Surprisingly, yes! Well, most of them are dying a slow death anyway.
Online forums used to be THE place for people of a certain interest group to ask, answer, buy/sell, gossip, and have fervent discussions about their favorite topics.
It almost felt like there was a forum for any interest or hobby: from the savory (SGfoodclub) to the unsavory (Sammyboy).
Due to the rise of alternatives like Facebook groups, people have flocked to other forms of platforms to be part of a community. You can say that the internet forum in 2019 is facing a similar fate to retail malls nowadays.
Here is a list of Singapore forums that I found which still has active members. These are forums mainly targeted at Singaporeans, and these are likely the most popular internet forums in Singapore in 2019.
I tried to categorize them in their main categories but almost all of these forums have sections dedicated to other topics.
I included the Alexa ranking to give you a general idea of how much traffic a forum gets compared to another. It's not meant to be an accurate ranking. (the lower the rank, the higher the estimated traffic)
| Forum URL | Category | Alexa Rank |
| --- | --- | --- |
| http://www.aquaticquotient.com/forum/forum.php | Aquatic | 469,339 |
| http://www.arofanatics.com/forums/ | Aquatic | 5,217,164 |
| http://www.sgreefclub.com/forum/ | Aquatic | 3,129,378 |
| http://www.singastro.org/forum2/ | Astronomy | 7,725,350 |
| https://www.bmw-sg.com/forums/ | Automotive | 625,058 |
| https://www.mycarforum.com/forums/ | Automotive | 82,008 |
| https://sg.wrxforums.com/forums/forum.php | Automotive | 1,976,714 |
| https://www.singaporebikes.com/forums/ | Automotive | 413,088 |
| https://forums.sgcafe.com/ | Anime/Cosplay | 367,051 |
| http://www.togoparts.com/forum/index.php | Cycling | 221,214 |
| https://forums.salary.sg/ | Employment | 184,074 |
| https://forum.singaporeexpats.com/ | Expats | 63,114 |
| http://www.petalbytes.com/ | Female | 233,943 |
| http://investideas.net/forum/ | Finance | na |
| https://gymkaki.com/ | Fitness | 3,143,421 |
| https://www.sgfoodclub.com/ | Food | na |
| https://www.daddyhobby.com/forum/forum.php | Male | 2,920,060 |
| https://sgtalk.org/mybb/index.php | General | 266,870 |
| https://www.soft.com.sg/forum/forum.php | Music | 919,147 |
| https://www.kiasuparents.com/kiasu/forum/index.php | Parenthood | 149,841 |
| https://singaporemotherhood.com/forum/ | Parenthood | 253,096 |
| https://www.singaporeparents.com.sg/forum/ | Parenthood | na |
| https://www.clubsnap.com/forums/ | Photography | 281,208 |
| http://forums.sgtrains.com/index.php | Public Transport | 537,982 |
| https://www.renonation.sg/forum/ | Renovation | 451,074 |
| https://www.renotalk.com/forum/ | Renovation | 287,297 |
| https://forums.condosingapore.com/ | Residential | 706,225 |
| https://www.badmintoncentral.com/forums/index.php | Sports | 336,247 |
| https://forums.hardwarezone.com.sg/ | Tech | 7,953 |
| https://forums.vrzone.com/ | Tech | 297,655 |
| https://www.flyertalk.com/forum/trending.php | Travel | 11,020 |
| https://www.tripadvisor.com.sg/ShowForum-g294262-i1747-Singapore.html | Travel | 11,687 |
| https://www.sgrolexclub.com/ | Watches | 1,123,242 |
| http://swx.com.sg/forums | Watches | 2,378,835 |
| http://www.perfectweddings.sg/forums/ | Wedding | 892,084 |
| https://singaporebrides.com/weddingforum/ | Wedding | 171,716 |
What are online forums and what is forum posting?
Online forums or internet forums are online discussion sites where topics are categorized, and people can post messages in a thread. It's like the very early days of Facebook, the difference being almost everyone hides behind an anonymous profile.
Doing forum posting means you create a new thread in a forum to start a discussion on a certain topic, or, to post to an existing forum thread and join the existing conversation.
Some businesses manage their own forums on their site as a form of community building and support system. Other businesses will try to post on public forums to drive attention to themselves as a form of marketing.
For SEOs, they do forum posting because you can add a link in the comment, and that counts as a backlink.
Should you be doing forum posting for SEO in 2019?
Back in the day, SEOs found that they could easily get a tonne of backlinks from forum threads. Whether it'd be a link in the signature or a link in the post, forums were the wild west for link spam.
In 2010, you could potentially rank a page just by pointing hundreds of forum links at it.
Thankfully, Google found ways to identify and devalue spam links from forum sites.
So in 2019, should you still be using mass forum links to rank a site? Obviously and absolutely not!
However, I wouldn't rule out posting in forums altogether.
Even though forums have become exceedingly niche nowadays and the traffic isn't as high as 10 years ago, it can still be beneficial to post in forums.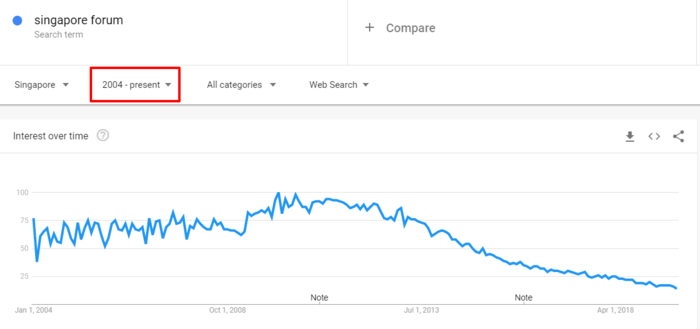 Why should you do forum posting?
If you are replying to an existing thread to provide answers to a question, you will likely have less competitors trying to answer the same question. You get more attention and referral traffic from forum users.
Some of these forums have die hard regulars who are likely to be very interested in new things in the industry. Word of mouth marketing can start from forum users liking your website.
Most forum threads get indexed by Google, unlike Facebook groups. If you managed to answer a frequently asked question and that thread happens to get indexed, you can also get a lot more referral traffic.
If you manage to post your business address and website link in forum posts, they still do count as local citations and a backlink. These DO still help with SEO in small ways. (as long as you aren't spamming it, and you don't count it as a key strategy to ranking)
My personal guideline for when to do forum posting:
If you just started a brand new site, and you have zero budget for marketing, and want some quick exposure for free.
When you see a forum post talking about your brand (positive or negative), you can use the chance to reply to the thread as a form of reputation management.
When you are monitoring certain brand mentions and keywords, and they happen to be mentioned in a forum, you can join in the conversation to "hijack" the thread.
Some things to take note when doing forum posting
Be careful of individual forum rules; some don't allow the posting of external links. Check the forum guidelines which are usually 'Sticky' posts
Make sure you start a thread in the correct section of the site meant for the correct topics.
Make sure your comments are relevant to the forum
Make sure not to be overly self promotional in all your comments. Forum users can be very sensitive of comments that are there just to promote a business.
If you are commenting as an official representative of your business, you can choose to add your website link in your forum signature. If not, I would suggest not using a forum signature link.
It's 2019. You really should be putting more focus into other communities like Facebook Groups and LinkedIn Groups.
Do you know of any other active Singapore forums that I missed out? Feel free to let me know so I can add them to the list.