We all know that writing a blog post can be time consuming and difficult. It takes years of practice to become an expert writer, and even then, we can't all start writing like machines.. but what if we could use AI to write our content for us?
Jasper.ai (Formerly known as JARVIS.ai) is a tool that helps you create high-quality articles in less than 30 minutes! You don't need any writing expertise or experience; Jasper.ai will do much of the work for you.
As someone who isn't a good writer, I constantly come up with these problems:
Not being able to come up with topics or ideas for articles
Struggling to write well-constructed sentences
Having a hard time proofreading content
Not being able to produce content on a regular basis
Not having the best English grammar or vocabulary to write beautifully
MENTAL BLOCK
I struggled with writing articles regularly due to my tight schedule.
The thing is, I have these ideas and topics in my head but don't have enough time to sit down and write an entire post about it.
That's where Jasper.ai comes in – as an AI writing assistant, it can help you take your idea and turn it into a well-written article.
In this guide, I will show you how to use Jasper to quickly create high-quality articles in less than 30 minutes.
Step 1: Have an idea of what you want to write
To get started, you'll need an idea of what type of content you want to write about and who your audience is. If you don't have these things figured out yet, worry not – I will show you how to do that too!
In this example, we used the AI writing assistant called Jasper. Jasper starts at 29USD/month, so it's not that pricey to start.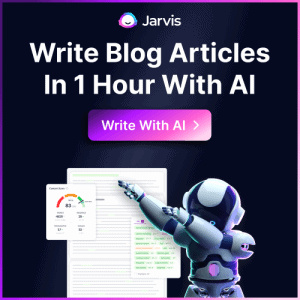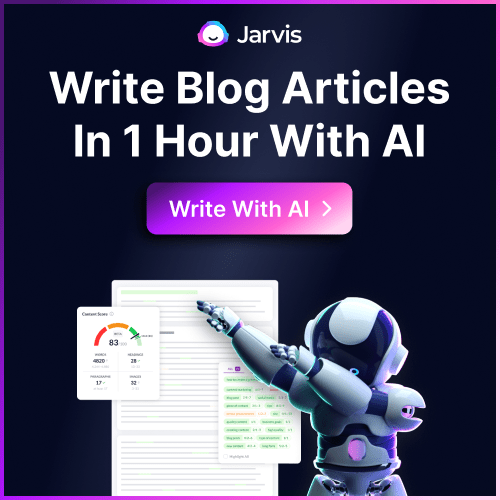 Use this link to get a free trial and a bonus 10k words to write with.
For this tutorial, I decided to write an article about "7 benefits of working from home".
Step 2: Create a simple content brief with the main points you want to talk about
You can use this topic to create a simple content outline. (It can be in point form)
This will help you (and Jasper) have an overview of the points that will be discussed in the article.
To give you an example, here is my basic content outline.
Introduction
7 main points of the benefits of working from home
Conclusion paragraph
Step 3: Provide the inputs into Jasper.ai
Create a "New Document" in Jasper, and use the "Blog Post Workflow".
Describe the content you want to create. Give instructions as if you are speaking to a human, and tell Jasper exactly what you want.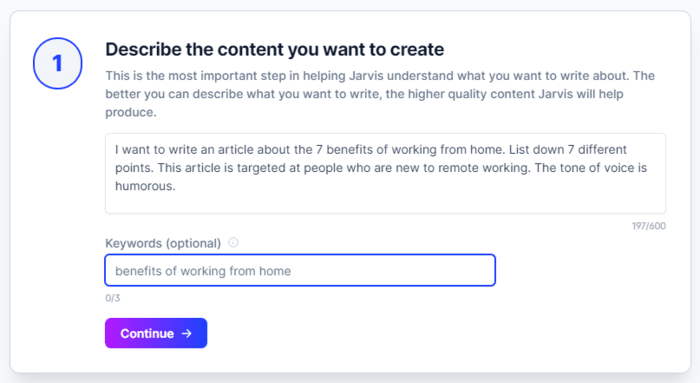 If you have the content outlined, you can just copy and paste it to the first field.
Provide any keywords if you have done keyword research. If not, simply skip this step.
Click on the 'Generate Ideas' button to let Jasper help you come up with Title and Intro Paragraph options.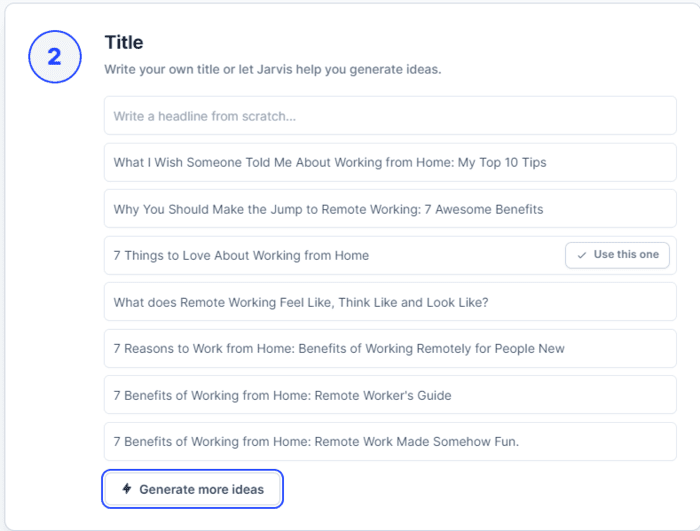 Choose which you like the most (these can be changed later), and finally, click on the last button to get things rolling!

Step 4: Add the article main points as H2
Once Jasper starts writing, it can automatically add the first few sentences as your introduction.
From there, you can just keep adding more main points as H2 headers.
Remember the point-form outline we prepared earlier? Simply copy and paste the points, and make them all H2. (Highlight the points, look at the top left corner, and click on the h2 option)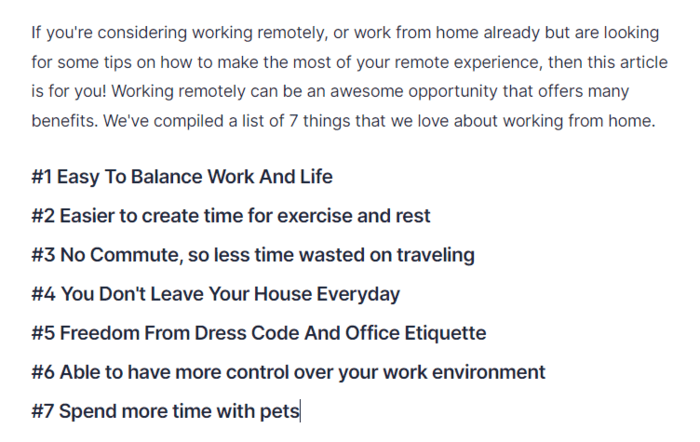 This will give Jasper a guideline to follow so it knows to write a paragraph based on that 'hint'.
(Bonus step: Ask Jasper to help you come up with points in the article)
If you are feeling stuck and need some help generating headings for your articles, you can also ask Jasper for help.
Step 5: Give Jasper some guidance and let it do the rest
Every now and then, give Jasper a bit of prodding to help it write for you.
Remember that Jasper is a WRITING ASSISTANT, and not a tool to 100% let it churn out complete articles.
What I do is write the start of sentences to guide it along what I want it to say. Most times, it is smart enough to continue writing along the path that I set. If not, simply give it a nudge in the right direction.
Click on Compose whenever you want Jasper to type sentences for you. If you are not happy with what Jasper wrote, simply click on the 'Rewrite' option.
Click on the thumbs down and thumbs up button to 'train' the AI.
Step 6: Do the final proofreading and fact checking
Once you have a draft of the article, you can proofread and do some fact checking to make sure everything is accurate.
If there are any sentences that need tweaking or rewording, simply click on Rewrite > New Translations/Rewrites.
This will let Jasper understand what changes must be made so it can write a new sentence with those tweaks.
Another important thing to note is fact checking. Jasper will quote random facts and figures, and it is your job to make sure you fill in the right statistics.
Step 7: Enjoy the fruits of your 30 minute labour.
I timed myself writing the article, and it took me about 28 minutes.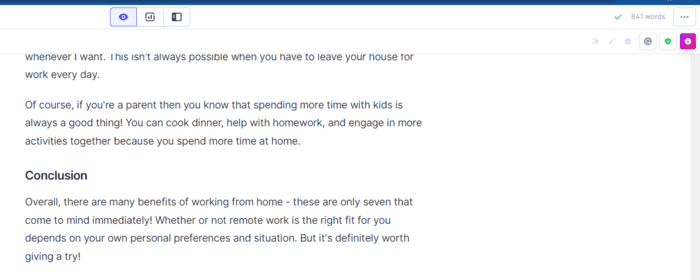 Granted, it is not a very complex article which required a lot of research and proofreading/fact checking.
But the fact that it helped me produce an article in 30 minutes and make it a relatively enjoyable process? Priceless!
Before you think that Jasper will completely solve all your writing challenges, think again.
Main drawbacks of Jasper.ai:
You need to invest and spend time to learn how to use Jasper effectively.
It is a writing assistant. You need to have subject matter expertise.
Jasper is not an encyclopedia. Jasper is not a fact checking software.
You need to invest time to proofread and edit yourself.
Imagine yourself hiring a writing intern who has no idea of anything in your industry. You have to stand behind the intern and verbally give instructions of what you want to write. The intern can write sentences and expand on some ideas in English much better than you, but you'll need to be the Brains behind them.
Conclusion:
Jasper.ai has been great for me whenever I run into writers' block, or when I am too busy to write content for my own personal projects.
In truth, Jasper creations still cannot beat a seasoned writer who spends time to do research, who understand the industry, and puts in effort to write with a goal in mind.
In my agency work, we still rely on hiring experienced writers who will do indepth topic research and fact checking.
Will AI writing assistants replace writers one day? I don't know.
However, they definitely have found a place in our workflow in 2022.
I hope that this guide was useful. I'd love to hear your feedback if anyone decides to try Jasper for themselves!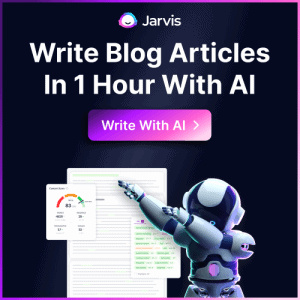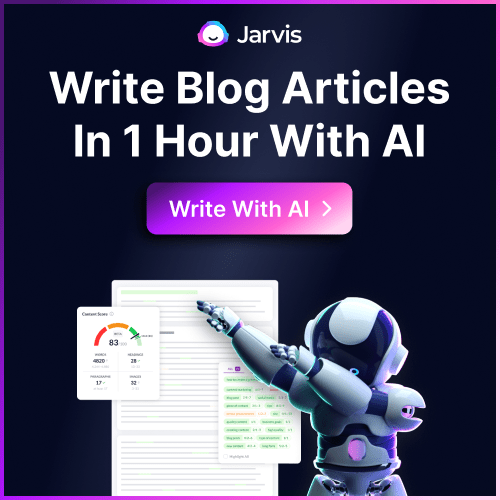 Use this link to get a free trial and a bonus 10k words to write with.